White Hall Vineyards
by
K.L. Sullivan
A visit to White Hall Vineyards along the Monticello Wine Trail was a priority as White Hall was selected to send four of their wines to London for tastings at Hampden House and Vinopolis in the Spring of 2007. The selectively chosen wines include 2005 Chardonnay, 2005 Viognier, 2002 Cuvée des Champs (Meritage-style blend) and 2004 Petit Verdot. We enjoyed tasting these wines and others in the spacious tasting room at White Hall Vineyards.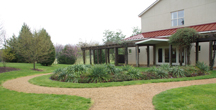 The approach to the front of White Hall Vineyards is landscaped with a circular stone pathway. A curved garden is centered inside the pathway and inside this garden curve is a relaxing fountain surrounded by worn stones.
Normally there is no charge for a tasting, however on the day of our visit there was a special event called St. Vincent Ferrer Festival. St. Vincent Ferrer is the patron saint of winegrowers. A nominal five-dollar fee was charged to cover the cost of a souvenir glass, food, and live music. Almost immediately, we met Tony and Edith Champ, owners of White Hall Vineyards. Both are very friendly and we enjoyed talking with them. Tony and Edith are very enthusiastic about their winery.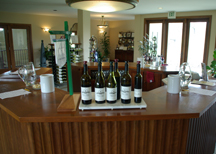 The tasting room opens into a large spacious area, with an octagon shaped wood tasting counter. Large windows/doors are on two sides of the room and provide bright light. As we entered the tasting room, we saw a plaque of San Vincent Ferrer, patron saint of charity and wine. Two small indoor fountains grace the room. Awards were displayed around the room. Racks of wines are spaced throughout the room. A large fireplace delightfully accent the tasting room.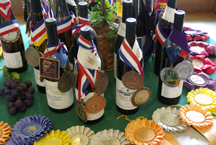 Currently White Hall Vineyards produces about 8,000 cases of wine each year, including 2,700 cases of Chardonnay. "Chardonnay is the biggest seller and we sell out every year," according to Tony. With 160 tons of grapes harvested in 2006, the owners of White Hall believe in the terroir of the area from 40 acres of grapes.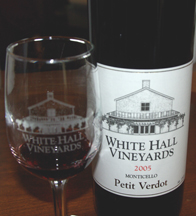 We had the opportunity to taste several of the wines and Tony discussed each wine with us. As a wine was about to be poured for us, Tony noticed a particular odor of a corked wine. He promptly used this as a learning situation pointing out the smell and taste of a lightly corked wine. Tony asked those who were working at the tasting bar to smell the wine and taste it if they chose to. Corked wine can occur at any winery that uses corks. A chemical (trichloroanisole) sometimes found in a cork as a result of the cork manufracturers' processing, will cause the wine to smell and taste like moldy aged cardboard. Corked wine is one of the reasons that many wineries are turning to screw caps. Wines sealed with screw caps are not susceptible to becoming corked. At White Hall Vineyards, most white wines will soon be bottled with screw caps. Tony told us about a blind tasting he had for his staff between a wine bottled with a screw cap and the same wine bottled with a cork. The staff preferred the wine bottled with a screw cap and were surprised that they selected that wine in the blind tasting. Red wines do benefit from being sealed with a cork, therefore you are less likely to find screw caps on red wines.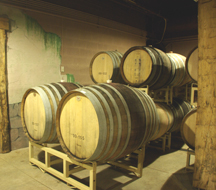 After tasting and discussing several White Hall wines, we went on a tour of the winery with Tony. Discussions included "whole cluster process," slow fermentation rather than hot, micro-oxidation and wood chips and cleaning barrels. During the tour we saw the bladder press. Tony had a book with 8X10 photographs to show us pictures of the process along the way. Since wineries do not press every day, it was nice to see the photos of the crusher operating. The tour continued in a large room with several different sized stainless steel tanks. We concluded the tour in the barrel aging room where 220 barrels were quietly aging wines.
White Hall uses a bottling truck that bottles and labels wine. This bottling truck can process 1200 cases in one day.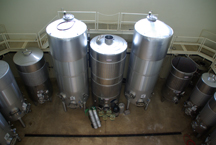 After returning to the tasting room, Tony took us to the second floor where there was a beautiful appointed room. If you have a special event, this would be a perfect room to rent for receptions or catered dinners. At the end of the room windows overlook the tank room. A small balcony juts out from the windows and provides one with a better view of the winery.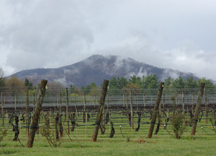 The vineyards are astoundingly beautiful with scenic mountains in the background. Heavy clouds quickly changed to a few whispers of clouds loitering over the vineyards.

Starting in 1992 with six acres of Chardonnay, Cabernet Sauvignon, Merlot and Cabernet Franc, White Hall now has grown to 40 acres of vines. This increase in size has also included adding new grapes: Viognier, Petit Verdot and Petit Manseng.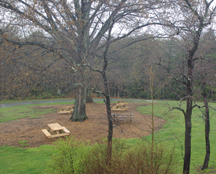 Picnic tables under a large tree are available for visitors. This makes an idyllic spot for a picnic and sharing a bottle of wine.
White Hall Vineyards participates in the Monticello Wine Festival held in April. However, they do not usually participate in other festivals. Tony prefers being able to talk to visitors about wine and tasting, rather than the long lines of people and no chance to talk to them.
We enjoyed our visit to White Hall Vineyards. Plan to spend two hours to a half-day here. If the weather is nice consider packing a picnic lunch and drink up the natural beauty of the land while drinking the fine wine.
White Hall Vineyards
White Hall, Virginia

---
Visit these Virginia wineries and wine tour groups that partner with Wine Trail Traveler.