Molon Lave Vineyards
by
Kathy. Sullivan

Summary: Molon Lave Vineyards provides wine enthusiasts a delightful experience. The name, Molon Lave, derives from Greek history involving the Spartans. The winery and vineyards provide the flavor of Virginia's countryside and Virginia wines. When visiting the winery, be sure to ask about the Kokineli, a Retsina wine. Molon Lave Vineyards is less than an hour from metropolitan District of Columbia.

Enjoy a visit to Molon Lave Vineyards, a winery and vineyards that opened in November 2009, where you will find a warm welcome, good wines and a facility that has been planned with great detail. The owner of Molon Lave, Louizos Papadopoulos, has been making wines following the family tradition, starting with sister winery Mediterranean Cellars, owned and managed by Louizos' parents, Mr. and Mrs. Papadopoulos.
Louizos named the vineyards and winery, Molon Lave, in part because he enjoys Ancient Greek history and Molon Lave refers to an incident that occurred during the Battle of Thermopylae during the Peloponnesian War in Ancient Greece. Three hundred Spartans were at a stand off and the opposing army told the Spartans to give up their weapons. The Spartan reply was "Molon Lave" meaning "come and get them!" Louizos believes that this act of defiance reflects the attitude of some Virginia colonists' position towards the English crown in American history.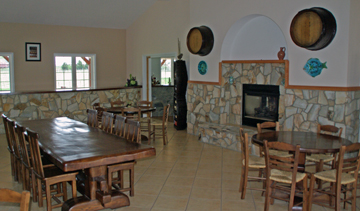 Tasting Rooms
The two main tasting rooms of the Molon Lave Vineyards winery facility flow easily from the entrance through to a large patio with a wide curving walkway that leads to a large pavilion. One room is for wine tastings with small groups and individuals. The adjacent room is for groups of visitors and special events. Both rooms have a fireplace. Wine Club members have access to a smaller room while larger parties take place in the barrel room. The room can accommodate up to 150 people. Note the antique furniture throughout the tasting areas. One table, 138 years old, has an insert in the center of the table. A large drawer type bin pulls out from under the table. Many of these antiques are from Greece.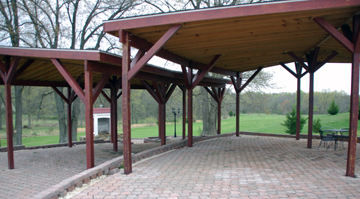 From the tasting rooms, enjoy walking along the pathway up to the pavilion that gives an overview of the winery, ponds and Virginia countryside. Consider bringing a picnic lunch and enjoying it on the grounds. Children are welcome to visit with their parents.
Vineyards
In 2003 the Molon Lave vineyards were planted and they currently have nine acres of grapevines. In the next five years, they plan to increase the size of the vineyards. In 2011 several varietals will be planted increasing the current varieties and adding new. The vineyards include Chambourcin, Pinot Grigio, Riesling, Merlot, Cabernet Sauvignon, Viognier, Chardonnay, and Vidal.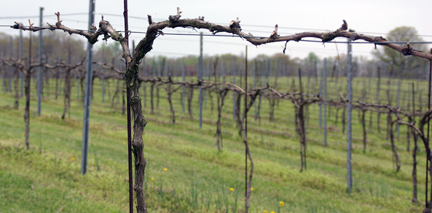 Molon Lave produces Kosher wines that will be available later in 2011. Two varietals are being used for the Kosher wines, a Riesling and a Noiret. According to Louizos, the kosher wine is produced following the highest level of Kosher requirements. Molon Lave Vineyards is one of a handful of wineries on the East Coast to produce Kosher wines, and the first winery to be producing them in Virginia.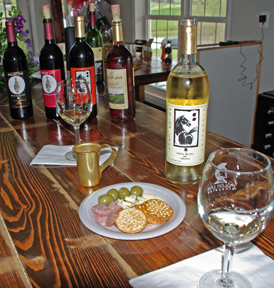 Wines

The goal for Louizos is "to taste the varietal in each wine." Today Molon Lave Vineyards is producing 2,000 cases and hopes to grow to over 5,000 in five to seven years. Wine tastings include small plates of olives, sausage, cheese and crackers.
White Wines
Vidal Blanc 2007 was crafted using stainless steel tanks and French oak barrels. This light yellow wine offered an aroma of yellow stone fruit. Apricot notes were on the taste. The finish was smooth and crisp with stone fruit nuances. Kokineli 2007 was a light red Rosé Retsina. The aroma was herbal while the taste offered herbal, rosemary and thyme nuances. Retsina is a unique wine found in Greece. The Retsina at Molon Lave is a rosé variation of the traditional Retsina wine.
Red Wines
Chambourcin 2007 was light ruby with red berry notes on the aroma and taste. The finish was fruity yielding to spice nuances. There were very mild tannins. Merlot 2007 was a dark red wine with black fruit notes on the aroma and taste. There were tannins on the fruity finish. Cabernet Sauvignon 2006, a blend of 90% Cabernet Sauvignon and 10% Petit Verdot, offered black fruit on the aroma taste. The fruity finish had mild tannins.
Enjoy a visit to Molon Lave Vineyards where you will discover quality wines including a rosé Retsina and soon kosher wines. Visitors will discover a delightful time. Be sure to consider taking a picnic basket and enjoying it with a bottle of Molon Lave Vineyards' wine. While in the tasting rooms peruse the hand carved olive wood artisan products from Greece.
Molon Lave Vineyards
10075 Lees Mill Road
Warrenton, VA 20186
GPS: N38º 37.231' W77º 49.447'
---
Visit these Virginia wineries and wine tour groups that partner with Wine Trail Traveler.