Trail Ridge Winery
by
Kathy Sullivan
Summary: A visit to Trail Ridge Winery provides visitors with wine tastings and the opportunity to purchase Colorado wines. The winery is located one hour north of Boulder and on the journey to Rocky Mountain National Park. In addition, the winery shares space with a boutique. Visitors have the opportunity to sip wine and browse throughout the boutique.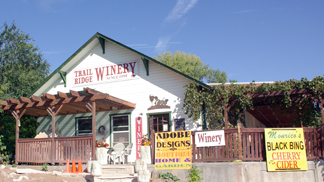 Trail Ridge Winery, located in Loveland, north of Boulder, Colorado has an experienced winemaker, Tim Merrick. He has been making wines for more than 25 years and his passion continues with his wines at Trail Ridge Winery. Tim developed an interest in making wine as a result of living in San Francisco. He started making wine as a hobby.
Eventually, Tim opened a wine supply store in Denver.
In 1994, he opened the Trail Ridge Winery with his first vintage. Currently, Tim sources the grapes from the Western Slope, producing 3000 cases. While Tim is busy producing wine for Trail Ridge Winery, he also is the winemaker for Ciatano's Winery. Different wines are available at each winery.
A hotel is located within walking distance of Trail Ridge Winery and guests of the hotel will stop at the winery to discover the wines. Tim believes the winery fits well into the community. The "community feels that the winery is part of the community."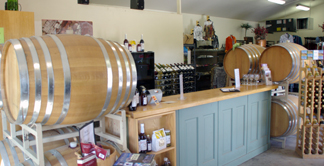 White Wines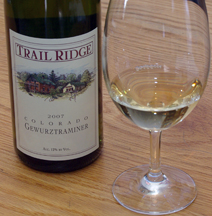 Gewurztraminer 2007 offered a very aromatic and floral aroma. The taste had apple pie spices including ginger, cloves and there were apple nuances. The finish was crisp, spicy and dry.
Riesling 2007 has a mineral and floral aroma. The taste was very fruity, like a fruit salad with apple, pear and citrus nuances. The wine had a long fruit finish.
Never Summer, a very popular wine, was a delightful wine to taste. The nose was refreshing with fruit nuances. With a residual sugar of two percent, the taste had some sweetness. There was a good balance of acid and sugar. It's terrific by itself or serve it with light snacks.
Red Wines
Syrah 2004 offered an aroma of figs and jam with a very fruity taste. The finish was crisp with a long fruit aftertaste.
Lemberger 2005 had a raspberry and pepper nose with earthiness. The taste was fruity and spicy. There was a long fruit aftertaste.
On the day of our visit, a landscaper was renovating the landscape. When finished the landscaping will draw visitors' attention to the winery. Already, the sandstone walkway with steps shows promise of a lovely ambience. The additional renovation will add to the winery experience.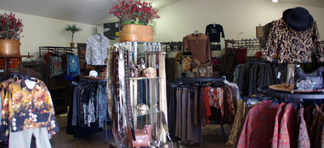 Adobe Designs is a boutique and design center. Debbie Brown, owner of Adobe Designs is excited about the opening of this second store and sharing the space with Trail Ridge Winery. The emphasis of Adobe Designs is old world styles in clothing, home and garden items. According to Debbie, everything is priced to sell. Enjoy browsing these unique and charming items while tasting your favorite Trail Ridge Winery Wine.
Stop at Trail Ridge Winery, discover Colorado wines, and take the opportunity to browse the boutique shop.
Trail Ridge Winery
4113 W. Eisenhower Blvd.
Loveland, Colorado 80537
GPS N 40° 24.460' W 105° 08.137'
---
Visit this Colorado lodging facility that partners with Wine Trail Traveler.
| | | | |
| --- | --- | --- | --- |
| | | | |
| | Spero Winery | Wine Country Inn | |
| | | | |