We received a sample bottle of Segura Viudas Brut. Last night we enjoyed the Segura Viudas Brut cava with extended family. The meal was paired with a dinner of Portland-style sockeye salmon and numerous oven grilled vegetables including carrots, squash and chard.
After a toast to family, we sipped the Sequra Viudas Brut and enjoyed the crystal, light yellow colored cava which offered long lasting multiple beads of small bubbles. The bubbles formed a mousse on the surface along the circumference and in the middle.
The cava had green apple aroma notes with a taste of green apple and yellow stone fruit. The finish was crisp and fruity yielding to mineral nuances.
One of the dinner guests noted that, "This cava is way too good for $10.00." On the other hand, I think it's great to have an affordable cava that can be enjoyed frequently rather than just for special occasions.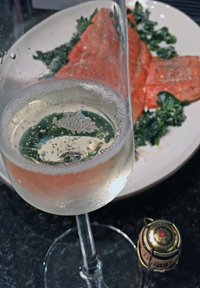 The Cava Details
The Segura Viudas cava was a blend of Macabeo, Parellada and Xarello. The cava had 11.5% alcohol. Segura Viudas recommends enjoying this sparkling wine as a beginning to dinner or paired with pasta dishes, soft cheese including Brie, pizza, prawns or grilled chicken. The brut cava can also pair with scallop linguine, Brie or smoked sockeye salmon. It was an excellent pairing with our sockeye salmon on a bed of chard.
About Segura Viudas
Segura Vivudas is located in the Penedés region of Spain. The property had a watchtower in the 11th century. By the 13th century, the tower had been renovated into a Catalan country house. The property included crops plus wine grapes. It was in the middle of the 1800s that sparkling wines were crafted. In the 1980s the Ferrer family of Barcelona purchased the estate. Today current production includes: Brut, Rosé, Extra Dry, Gran Cuvée Reserva and Reserva Heredad.
Have you selected your wines for the holidays yet? The Segura Viudas is an affordable choice for the Holidays.
Enjoy!
Kathy