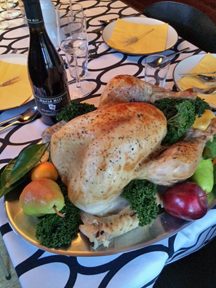 The day after Thanksgiving many refrigerators will be filled with leftovers. If your family is like ours, just heating up the leftovers today doesn't quite do it. However, there are tons of ideas for leftover turkey.
If you have a good size portion of turkey left, freeze it. In a few weeks, when you have a craving for roast turkey, thaw the turkey and make a simple herb dressing. When making the dressing, add a splash of white wine. Put the finished dressing in a baking dish, cover with turkey and top with a slightly diluted can of cream of celery soup. Bake for about 45 minutes and you have a simple but delicious, tummy warming dinner.
If you want more ideas for leftover turkey, check out the National Turkey Federation website. Below are a couple of recipes, printed with permission from the National Turkey Federation.
Braised Turkey in Red Wine with Sweet Potatoes & Red Cabbage
Chef Su Jin Yoo: The City Tavern, Philadelphia, PA
Ingredients:
2 Cups: dry red wine
2 Tablespoons: dry cherries
2 Sticks: cinnamon
2 Pounds: TURKEY BREAST, trimmed & cut into cubes
As needed: salt and freshly ground black pepper
As needed: vegetable oil
8 Ounces: red onion, chopped fine
2 Cloves: garlic, minced
1 Cup: TURKEY STOCK
1 Pound: sweet potatoes, peeled and cut into cubes
1 Teaspoon: ground cinnamon
1/4 Cup: dried cherries, pre-soaked in water and drained
1 Tablespoon: unsalted butter
1 Teaspoon: sugar
As needed: salt and freshly ground black pepper
As needed: vegetable oil
6-Ounces: onion, thinly sliced
1 Pound: red cabbage, shredded
1 Clove: garlic, finely diced
4 Ounces: tart apple, peeled and thinly sliced
1 Cup: TURKEY STOCK
As needed: salt and freshly ground black pepper
BRAISED TURKEY
1. Combine red wine, cherries and cinnamon sticks. Reduce the wine by one-half.
2. Season the turkey with salt and pepper.
3. Over medium-high heat, heat enough oil in a pan to film the bottom. Sear turkey to a deep brown on all sides.
4. Remove turkey and reserve.
5. Add onion and to the pan and cook until golden brown. Add garlic and cook until fragrant.
6. Return turkey cubes to pan. Add turkey stock and red wine reduction.
7. Bring to a gentle simmer over low heat, braising for about 40 minutes .
8. Adjust seasonings with salt and pepper.
MASHED SWEET POTATOES with DRIED CHERRIES
1. Cook cubed potatoes in water until tender enough to easily mash.
2. Add cinnamon, cherries, butter and sugar. Season with salt and pepper to taste. Mix well.
BRAISED RED CABBAGE
1. Heat oil in a sauté pan, add onions. Sauté until they begin to turn translucent.
2. Add red cabbage and garlic and sauté for an additional 5-6 minutes or until red cabbage wilts.
3. Add apple and sauté for 2-3 minutes.
4. Add stock and simmer until almost all liquid is reduced.
5. Season with salt and pepper.
Or try this recipe for Company Turkey Pot Pie
Ingredients:
1 Tablespoon: canola oil
1/2 Cup: diced sweet onion
1/2 Cup: diced celery
1/2 Cup: diced carrots
1/3 Cup: dry white wine
1 Cup: TURKEY STOCK
1/2 Cup: frozen peas, thawed
1/2 Cup: cleaned and sliced button mushrooms
1/2 Cup: diced red skinned potatoes
1/2 Teaspoon: dried thyme leaves
1/2 Teaspoon: minced fresh garlic
1/2 Cup: heavy cream
To taste: salt and freshly ground black pepper
1 Pound: COOKED TURKEY, shredded
2 Tablespoons: unsalted butter, softened
2 Tablespoons: all-purpose flour
1 (10″ X 15″): Sheet puff pastry, thawed and cut in rounds to fit ramekins
1 Egg: beaten with 1 teaspoon cold water
PREPARATION
Heat oil in a large, heavy skillet over medium heat.
Add onion, celery and carrots. Sauté over medium heat for 3 – 5 minutes or until vegetables are tender.
Add wine to deglaze pan, loosening any browned bits in the skillet.
Add turkey stock, peas, mushrooms and potatoes. Bring to a boil over medium heat.
Add thyme, garlic and heavy cream. Season with salt and pepper to taste.
Bring to a boil over high heat and stir in shredded turkey.
Bring back to a boil. Immediately reduce heat and gently simmer about 5 minutes, stirring often. Heat until ingredients are fully heated.
In a small bowl, combine butter and flour into a paste.
Slowly stir butter-flour mixture into turkey mixture until it is combined and mixture is thickened.
BAKING
Ladle turkey mixture into 8-ounce individual ramekins. Cover each with puff pastry circles, allowing a 1-inch overhang. Crimp pastry to edge of the bowl.
Using a fork, gently prick pastry to allow steam to escape, being careful not to break the dough.
Gently brush egg mixture over the surface of puff pastry.
Bake in a preheated 350 degree F oven for 12 to 15 minutes, until pastry edges are brown.
Both recipes are from the www.eatturkey.com website.
Cheers!
Kathy