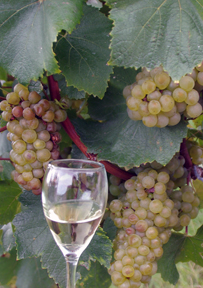 With the heat and humidity settling in on the mid-Atlantic region during July, it's time to consider the possible wine options. Consider the tips listed below for your summer wine selections.
Low alcohol wines are preferable during the heat.
If you are choosing a white wine to pair with a summer salad try to stay away from heavily oaked wines.
Rosés with their beautiful pink color often have fruity notes of red raspberries or strawberries.

 Rosé wines can be especially delightful during the warm summer months.

Red wine lovers may enjoy Pinot Noir wines.
Want to keep your wines cool while enjoying them in a glass? Freeze grapes, pitted cherries, red raspberries or peach slices. Add the appropriate fruit to your wine glass.
Traveling with wine? During hot weather do not keep wine in your car. Temperatures of cars can get exceedingly hot and the wine you treasure will be ruined. If you are visiting wineries during warm/hot months, make provisions to ensure that the wine is kept cool. It is not the winery's responsibility if your wine is overheated.
Be sure to stay hydrated with water or non-alcoholic beverages while enjoying any type of alcohol especially during the summer heat.
Wine and Food Pairing Suggestions
Cold Pasta Salad: Sparkling wine
Grilled Chicken: Chardonnay (unoaked), dry Riesling, Sauvignon Blanc, Pinot Grigio, Rosé, Pinot Noir
Grilled Pork: dry Riesling, dry rosé, Pinot Noir
Sausage and Hamburgers: Petit Syrah, Cabernet Sauvignon, Tempranillo
Clams: white wine
Salmon: dry rosé, Pinot Noir
Soft Shell Crabs: Chardonnay (unoaked), Sauvignon Blanc, Riesling, Sparkling Wine
If you are considering a heavy-bodied wine such as a white or rosé Port, make a cocktail. Add as much tonic water as Port to the glass. Top with a slice of lime or lemon. This drink is light and refreshing.
Cheers!
Kathy