Cheers,
Kathy and Terry
This week we enjoyed a bottle of Grüner Veltliner produced by Strasserhof, a winery located in South Tyrol, Italy. South Tyrol is located in northeast Italy in the Alto Adige wine region.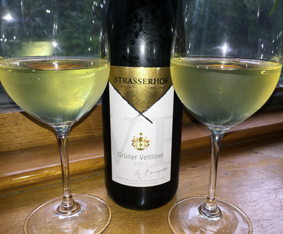 The Strasserhof Grüner Veltliner 2017 was a light yellow color with a hint of a green hue. This 13% alcohol wine offered aromas of tropical fruits. The taste was refreshing and included notes of citrus with a hint of pineapple. The mouthfeel was pleasantly soft. The aftertaste had mineral notes also with a hint of pineapple. The finish was crisp with citrus. Terry suggests pairing this Grüner Veltliner with seafood, white meats and salads. Otherwise, it is a great wine to enjoy as an aperitif on a summer day on a porch rocking chair.

Strasserhof specializes in producing mostly white wines including Müller Thurgau, Grüner Veltliner, Sylvaner, Kerner, Riesling and Gewürztraminer. They also produce the red wine – Zweigelt. Wines produced by Strasserhof are exported to the United States, Austria, Germany, Holland and Japan.

The winery claims to have some of the oldest vineyards in the region with historic walls that date back to the 11th century.

Strasserhof also offers lodging for those looking for excursions in the area. Choose between furnished rooms or an apartment. The winery encourages visitors to take walks or hikes. During the winter nearby skiing is available. For travelers and wine enthusiasts Strasserhof appears to be a good destination to consider adding to your itinerary.