This week we enjoyed a Lagrein 2017 from Italy. The producer is Castel Sallegg, a winery located in the Caldaro, Alto Adige. The DOC is Alto Adige. The Lagrein 2017, with 13% alcohol, was produced with 100% Lagrein grape variety. The wine was a dark violet color with a black hue. The aroma reminded one of fresh dark fruit salad. The medium/full-bodied taste included notes of black raspberries, black plums, black berries and black cherries. The wine had a smooth mouthfeel with soft tannins.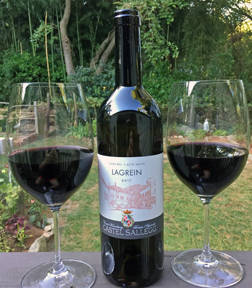 Food and Wine Pairing
The Lagrein 2017 would pair well with roast beef, grilled sausage and grilled hamburgers. In addition, red wine drinkers are likely to enjoy this wine with cheese and crackers.
Castel Sallegg Wines
Castel Sallegg produces four categories of wines including: Premium, Reserve, Selection Red and Selection White.
Vineyards
Castel Sallegg has three vineyards. The Preyhof vineyard in Caldaro offers limestone and gravel soils. At this location three grape varieties are growing including Pinot Grigio, Chardonnay and Pinot Bianco. The Leisenhof vineyard soil is sandy and loamy. This vineyard has Sauvignon Blanc and Pinot Noir. The Seehof vineyard, close to Lake Kaltern, also with loamy and sandy soil has Goldmuskateller and Gewürztraminer, Merlot, Lagrein, Cabernet Sauvignon and Rosenmuskateller.
History
According to the Castel Sallegg website the estate has a long history. "The family history and Castel Sallegg have been intimately connected since 1851. The estate went in direct succession from Archduke Rainer of Austria, Viceroy of Lombardy and Veneto, via the Princess of Campofranco to today's owner, the Count von Kuenburg."
Visiting

Castel Sallegg has a Vinotheque. Hours for visitors at the Vinotheque are: 

Hours April-October:
Monday – Friday: 10:00-13:00 and 14:00-19:00
Saturday: 9:00-12:00
(July: please reserve your visit)
Sunday closed

Hours November-March :
Monday – Friday: 10:00-12:30 and 14:00-17:30
Saturday and Sunday closed
On a personal note, Terry really liked this wine, so much he has a mission to try other wines made from Lagrein. Although Sagrantino remains his favorite Italian red varietal grape, Lagrein may be second.
Cheers,
Kathy and Terry