Recently we traveled into Washington, DC to attend a wine tasting featuring Trentodoc wines. The Trentodoc wine region is located north of Lake Garda in Italy. The DOC features sparkling wines but also produces still wines. Our Trentodoc wine tasting consisted of all sparkling wines. While we had our favorites, the best part of the tasting was that all of the sparkling wines were well made.
The tag line for Trentodoc wines is "Sparkling Wine from the Mountains." Trentodoc is the only wine region allowed to use this tag line. A paper we received at the wine tasting quotes Lord Byron, "Up here I live not in myself, but I become portion of that around me. And to me, high mountains are a feeling."
After the short and concise presentation and wine tasting, a gourmet lunch was served. We were asked to choose our favorite sparkling wine to pair with the impressive lunch. Lunch finished with a light berry fruit dessert.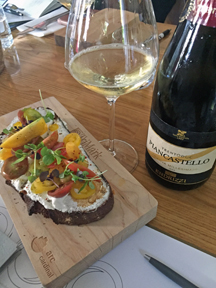 The Trentodoc wines would be suitable as an aperitif or paired with a variety of cuisines. Trentodoc suggests the following pairings with its sparkling wines.
Fall Seasonal Dishes
Roasted chicken
Roasted vegetables
Potato and leek soup
Cauliflower and Brussel Sprout Gratin
Butternut Squash Hash
Roasted squash and Kale Salad
Minestrone soup
Traditional Trentino Dishes
Canederli – bread dumpling with speck
Polenta
Cheeses: Trentingrana, Casolet, Vezzena, Puzzone di Moena
Speck- smoked and dry cured pork
Luganega sausage
Carne salada
Tortel di patate
Gnocchi di patate alla retina
Bro brusà – a soup that gets its name from brewing flour in olive oil and butter and then adding water for a dense broth. Smoked pancetta or beans can be added.
Maxwell Park Wine Bar
The Maxwell Park Wine Bar was the location of the Trentodoc wine tasting. The wine bar is located in the Shaw neighborhood of Washington DC. This is a small boutique wine bar with seating available at a counter or one of several tables. A small corner nook offers a cozy spot to enjoy wine with friends. There is also outdoor seating.
Unusual artistic drawings show grape clusters with faces drawn on individual grapes. These werequite unique.
The next time you are looking for a sparkling wine, you may want to consider trying a Trentodoc sparkling wine from Italy.
Cheers!
Kathy