We were gifted a bottle of Cabernet Sauvignon produced by Nichols Winery in California and recently enjoyed opening the bottle and pouring a glass of it. The wine was Nichols Cabernet Sauvignon Mount Veeder 2012. Upon opening the bottle there was an explosion of aroma emphasizing black fruit. The wine was dark ruby to purple color. The wine offered smooth a mouthfeel and bold tannins. Notes of blackberry, cassis, cedar and violets were enjoyed. The wine offered a long aftertaste.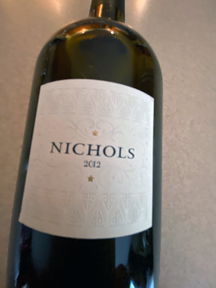 Curious about Nichols Winery located in Paso Robles, I did a little online research and discovered that Nichols Winery was started in 1991 by Keith Nichols who was interested in producing ultra premium wines. In addition to producing Cabernet Sauvignon wines, he also produces Chardonnay, Zinfandel, Pinot Blanc, Pinot Noir, Merlot and Cabernet Franc wines. Keith also produces the Silver Fox and Soleil & Terroir brands.
Keith was born in New York state, joined the Navy and eventually moved to Maryland. From Maryland he went to California where he developed his interest in wine. His research into wine has taken him to France and South Africa.
Today Nichols Winery has opened a tasting room in Atascadero, California. Available are the three brands: Nichols Brand, Soleil & Terroir Brand and Silver Fox Brand.
The tasting room provides three patios, a full kitchen, an "up-side-down" wine cellar, a library/reserve tasting room, a tasting room and winery tours.
In this time of social distancing you might want to order from the winery's online store.
Cheers!
Kathy