I love Italian food and am always willing to try Italian restaurants. As I walked into Bucci Ristorante in Grosse Pointe Woods, Michigan, I immediately notice that this restaurant was different from others. I discovered it had a kitchen open to viewing by the patrons. The kitchen area was separated from the seating area by a counter, where patrons could sit and as they ate, watch their meals prepared. This open kitchen experience was interesting to observe. My brother selected this restaurant because it is one of his favorites and we came early so that we could sit at the counter. It felt like we were in the kitchen and could observe everything the chefs were doing. The restaurant also has traditional seating. Total seating capacity is 65.
Bucci Ristorante is the creation of head chef Bujar Mamuslari whose childhood nickname was Bucci. Since our group came near opening time, there were few other patrons at that time. Both Bujar and his wife, Shpresa took time to talk with us. My brother brought two wines from his cellar, a Palmaz Vineyard Cabernet Sauvignon and a Roy Estate Cabernet Sauvignon. During our appetizers and entrée Bujar and Shpresa tasted the wines and offered their comments. Seldom will all wine enthusiasts agree about wines. However this evening, all agreed that the Roy Estate was the better wine. It offered a more complex aroma and more layers of taste. The lighter tannins made it a perfect match for the different entrées that our group ate. We were impressed with Bujar and Shpresa tasting the wine. They made us feel like family.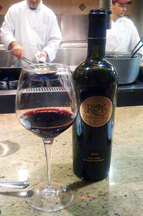 Although my wife and I have been to dinner theaters, Bucci Ristorante offers cooking theater right in front of you. You can observe the preparation of the food from start to finish. Shpresa said that not everyone could handle the constant scrutiny. It takes a special chef that can cook in the kitchen while every action is being watched. The chefs also do observing. They can see the reactions of the customers to their creations. Bucci also constantly observes what is happening in the kitchen to make sure the foods served are created with perfection.
The appetizers enticed our palates and discussion centered on the Palmaz Cab. Our entrées were served hot and my lobster paired perfectly with the Roy Estate Cab. The food was excellent, the atmosphere offered a breadth of fresh air and we were treated as family. When visiting the Detroit area, I plan to stop at Bucci Ristorante. If you have the opportunity, be sure to visit Bucci Ristorante.