Mormoraia is just a few kilometers outside the medieval walled city of San Gimignano in Italy. Tastings are expensive and are for groups of six. There are also tours and tastings combined including food. The tour of the property and different buildings is worth it however. For those who want to spend evenings there is a selection of rooms, suites and apartments. We stayed for two weeks in a two-bedroom apartment that also had a living room area, large dining area and very small fully equipped kitchen. The advantage of staying for an evening to a week or more is the serenity of the area. One can spend hours walking the grounds and walking along the vineyards. We were fortunate to observe migrant workers harvesting the olives for olive oil. It's quite a process. Views of the walled city, San Gimignano are in the distance and can provide spectacular photos early morning when fog covers the walls and only the towers appear above the fog level. Check out our articles on Mormoraia on the WineTrailTraveler site.
Cheers,
Terry
Vineyards near the bottom of the photograph. The building is where the apartments are located. San Gimignano is in the distance.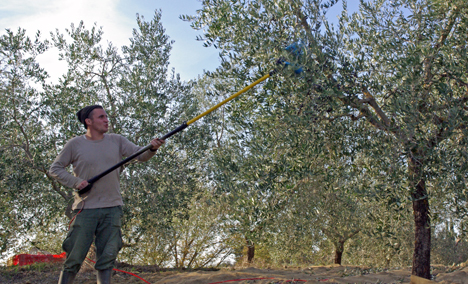 Harvesting olives for the olive oil.
Towers of San Gimignano rise above the fog level from Mormoraia.