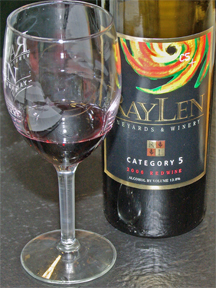 So Californians have had their share of fun with the East Coast's 5.8 earthquake. Comments such as, "We use a 5.8 earthquake to stir the milk in our coffee" were common. However, let me point out that many California earthquakes at and above 5.8 are not followed by a hurricane. So California, give the East Coast a break.
Getting to the importance of wine, what's a good wine to pair with a hurricane? RayLen Vineyards and Winery in Mocksville, North Carolina has their best selling Cat 5. With the infrared image of the last Category 5 hurricane to hit North Carolina for its label, Cat 5 is called, by the local community, "Hurricane Juice."
We tried the 2006 Cat 5 a few years ago. The color was a dark opaque purple. The blend was of Cabernet Sauvignon, Cabernet Franc, Merlot, Petite Verdot and Syrah. The aroma offered blackberry notes and the taste was smooth with black fruit. The finish was crisp with soft tannins. There was a long fruit aftertaste.
So East Coast, forget the quake and deal with the deluge. Stock up with your version of Hurricane Juice, flashlights, batteries, water and non-perishable food supplies!
Cheers,
Terry