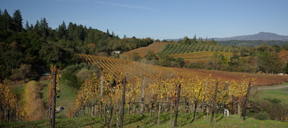 We have been enjoying the autumn show of vineyard colors for some time now. Last week in the Lake Erie North Shore wine region of Ontario, the last colors of vineyards were beginning to fade. This week in Sonoma and Napa counties in California, the vineyards are putting on their show.
Although we spotted a few vines that are still green, there were many that showed different hues of yellows and darker reds. One spectacular vision was during a vineyard walking tour at Michel- Schlumberger. The Sonoma Vineyard Walk was sponsored by Zephyr Adventures. The group on the walk were attendees at the Wine Tourism Conference held in Napa on November 16th and 17th. The walkers ambled up and down rolling hills. From the higher vantage points, one had views of many of the vineyards. Different varietal grapes showcased the blocks where they were planted. The scenery was spectacular and offered many photo opportunities. While on the walk, we stopped several times for discussions about the land and vineyards.
As we enter the final weeks for vineyard foliage, check out your local wineries and vineyards. Catch the colors that different grape varieties offer. My favorite vineyard color captured in a photo was at Mormoraia in San Gimignano, Italy.
Cheers,
Terry