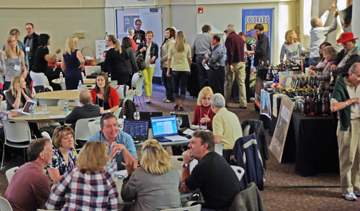 The Colorado Twitter Taste–Off took place during the afternoon session. Twenty-two Colorado wineries poured two of their wines for conference attendees. Everyone voted for the best red and best white wines. Best red award went to Ruby Trust Cellars for their The Smuggler. The best white wine went to Guy Drew Vineyards for their Pinot Gris. The people's choice award went to Redstone Meadery for their Nectar of the Hops. While the media's favorite wine was the Guy Drew Vineyards Pinot Gris.
To continue with a theme I began at the Wine Bloggers Conference in 2011, my wine tweets consist of Haikus. Here is a sample of the Haikus written for the 2012 Drink Local Wine Twitter Taste-Off.
Desert Moon Vineyards
Altitude with attitude
Enjoyed the tannins
Redstone Meadery
Carbonated fruit honey
Raspberry Nectar.
Ruby Trust Cellars
The Smuggler Cab Franc pepper
Spicy dark black fruit.
Holy Cross Abbey
Cabernet Franc red cherry
Pepper and tannins.
Meunier Pinot
Jack Rabbit Hill fruity red
High altitude blend.
Mesa Park Vineyards
Cherries, black pepper blended
Where's the barbecue?
Whitewater Hill Chard
Zero Below apricot
Drink this all day long.
Settembre Cellars
Cab Sauvignon dark fruit spice
Tannins blackberries.
Cheers,
Terry