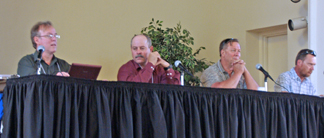 The first seminar focused on Colorado's Terroir and the Challenges of High Altitude.  Richard Leahy, national wine consultant, moderated the session that included a panel with Horst Caspari, Professor & State Viticulturist, Colorado State University; Stephen Menke, PhD, Associate Professor of Enology, Colorado State University; and Bruce Talbott, Vice President, Talbott Farms.
Horst Caspari gave an overview of the state's grape production areas. The Western Slope produces over 90 percent of the state's wine grapes. The grape growing areas range in the 4500′ to 7000' altitude. Site selection is very important. Occasionally there may be vine killing temperatures. Most of the vines in the state are growing on their own rootstock. Challenges of cold and drought are the primary concerns for growers. The reality in Colorado is if you are a grower, you would make more money growing peaches rather than grapes.
Bruce Talbott spoke about growing fruit in Colorado. When he started exiting from growing apples, it opened up the ability to plant grapes. Bruce spoke of the light intensity. It helps peaches; studies need to be done on wine grape benefits. Bruce farms both peaches and grapes and  that helps to diversify the farm. Grapes in the high desert need water in the spring. Bruce also spoke of the value of having vines on their own rootstock. Suckers that emerge from the soil are the true grape variety. Bruce stated that if a grower loses a crop, they lose three times. They will lose skilled workers who move elsewhere. They lose the value of the crop and they lose wineries. The wineries will be forced to buy elsewhere.
Stephen Menke spoke about the promising grape varieties and new varietal grapes that may do well in Colorado. Stephen pointed out that the grape growing industry needs to expand, however there is competition for land with those planting peaches. Stephen sees the possibilities of hybrid grapes in Colorado. Stephen likes Traminette and Noiret grapes and how they express themselves. The challenge is to discover the varietal grapes that consistently do well year after year.
Cheers,
Terry