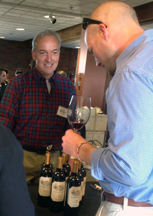 I've spent many an evening at Oriole Park at Camden yards watching a ball game. Where ever I sat I noticed the warehouse that stretches along South Eutaw St. I didn't imagine the site of the stadium from within the warehouse though. On Saturday, the Drink Local Wine Conference held the Twitter Taste-Off of Maryland wines in the warehouse. Although the Orioles were not playing at home, there was a ball game going on followed by a wedding. The view of the field and stadium from the warehouse was great. This was an excellent choice for the setting for Maryland wines. Conference attendees arrived before the general public and had an hour to discover and taste wines from 21 Maryland wineries. Then at 4:00 there was a steady stream of traffic arriving for the tasting. The 300 tickets to the event were sold out days ago. Everyone appeared to have a good time.
Keeping with conference grad tasting tradition, I wrote haikus for the wines I tasted. I didn't taste many wines since I was in the lobby hoping to sell and sign a copy of our book A Wine Journey. However, here are a few haikus from the event.
Twitter Taste-Off Haikus
Dodan Sauvignon Blanc
Dodon Sauvignon
Hint of tropicals, lemon
Light acid finish.
Linganore Chardonnay
Smooth Chardonay light
Linganore's newest label
Bring on the seafood.
Royal Rabbit The Viscount
Royal Rabbit blend
Petite Verdot, Sauvignon
Dark fruits meeting oak.
Basignani Sinistra
Basignani port
Sinistra shocases Cab
Dried fruits, delicious.
Knob Hall Prestige
A Merlot based blend 
A Kiss of dark fruits slight oak 
Admiration red.
Catoctin Breeze Dolce Vita
Dolce Vita sweet
Raspberries, blueberries, and
Marionberries.
Cheers,
Terry