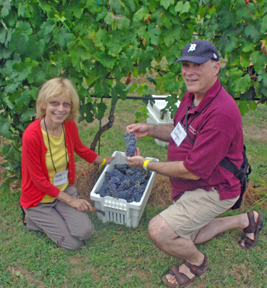 About 150 people showed up for the harvest at Messina Hof Winery in Bryan, Texas today. A testament of how much this winery is appreciated in the Lone Star State. Paul Mitchell Bonarrigo, son of founders Paul and Merrill Bonarrigo, gave a brief family history, history of the vineyard and instructions for harvesting grapes. The group then proceeded out to the vineyard. It was a cloudy day with a light breeze, perfect conditions for harvesting Lenoir (aka Black Spanish). Each couple received a lug and Kathy and I headed to a row and settled down to harvest.
It was easier for me to kneel. The clusters were generally towards the bottom of the vines up to the middle. We used curved harvesting knives to cut the grape cluster from the vine. This was the second time Kathy and I were in a vineyard cutting grape clusters. We filled three lugs in 30 minutes. A pace that is too slow for professionals, but out performed our earlier attempt at harvesting grapes.
There was a contest for most unusual grape clusters. One of my clusters was selected in the top 20. The competition then turned into a talent show. Each person had to preform something. I resorted to comical opera. As a result I made it to the final six. After the competition it was time for us to sanitize our feet and start to crush grapes by stomping on them. After this delightful experience, I stepped on a tee shirt to leave a foot imprint made of grape juice. This is a lasting remembrance of a wonderful day at Messina Hof Winery.
Cheers,
Terry