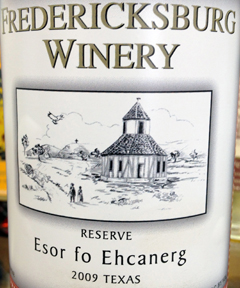 It is always nice not to get too serious about wine and vineyards. We had a great time a week ago, harvesting Lenoir grapes at Messina Hof Winery in Bryan, Texas. To make harvest more interesting, it was already fun, pickers could choose a cluster of grapes to enter into the Big Kahuna contest. I picked a rather large cluster and entered the contest. To my surprise, I was called up with nine other contest participants and asked to perform something. We were the first group of ten. Another group of ten followed.
So on the spot I had to think fast. So I sang made up harvest lyrics for Pagliacci "Vesti la giubba." It was a real crowd pleaser until the last group of ten performed. Near the end of that group someone began singing the Aggie song and a party broke out. People were singing and dancing. I really like the college spirit, but the Aggie song over creative Pagliacci. Defeat at the hands of Texas A&M didn't last too long. While visiting wineries in Fredericksburg, Texas I saw an interesting wine name at Fredericksburg Winery. Apparently this is LongHorn Country.
Jene Switzer said that they named this wine especially for Texas A&M Aggies. The wine's name was Esor fo Ehcanerg. Jene commented that any Aggie could read and understand the grape used to make this wine. "Aggies are backwards. They read the name backwards to understand it." Go ahead, read Esor fo Ehcanerg backwards and you'll discover the name of the grape that went into the wine. Backwards or not, Aggies are fun.
Cheers,
Terry