Last evening we met about 30 others at Cafe de Paris in Columbia, Maryland for the group's monthly wine tasting. The theme of the evening was "Blanc-ity Blanc Wines" with an emphasis on white wines that had the word blanc in them. So we tasted Chenin Blanc, Pinot Blanc, Sauvignon Blanc, Grenache Blanc and Ugni Blanc. The only wine that didn't have a blanc in the grape's name was our first wine from Schramsberg in California. This was a sparkling Blanc de Blanc; so it came close enough to qualify for our theme. The sparkling wine was made of Chardonnay and had a light straw color and  apple notes on the aroma and taste. It was nice to begin the tasting with a sparkling wine.
The next eight wines were paired in groups of two. Each group had a wine made with the same grape from a different wine region. During the wine pairings, different appetizers were placed on the tables. The first wine group pairing was with Chenin Blanc. The Le Haut Vinot Anjou, Anjou, France was a Chenin Blanc that was a straw color with tropical fruits and floral notes on the aroma and taste. The wine was slightly sweet. It would pair well with a rocking chair on a porch.   The Badenhorst Chenin Blanc, Western Cape, South Africa was quite a contrast. This Chenin Blanc was also a straw color and predominantly citrus and very dry. This paired well with our appetizer of tortilla chips and humus.
The next pairing matched two Pinot Blancs. Albert Seltz Pinot Blanc, Alsace, France was a straw color and slightly sweet. There were tropical fruits on the aroma and taste. The finish was fruity and dry. This wine was matched with Hofstatter Pinot Bianco from Italy. This straw colored Pinot Blanc was floral and citrusy with a very crisp finish. Again the French wine would do well as an aperatif while the Italian version could pair with appetizers.
Next up was the pairing of Sauvignon Blancs. The Hippolyte Reverdy Sancerre from Sancerre, France had citrus and tropical notes. The Cloudy Bay Sauvignon Blanc from Marlborough, New Zealand was the great disappointment for the evening. It was very herbaceous and had hints of mineral. The mineral was acceptable but I didn't care for the herbaceousness.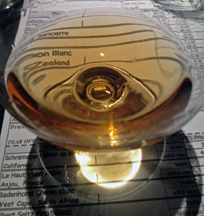 Our final pairing was with a Granache Blanc. The Chapoutier Belleruche from Cote du Rhone, France was a blend of Grenache Blanc, Clairette and Bourboulenc. The wine had a light yellow color with tropical fruits and citrus. It had an oily mouthfeel and crisp finish.The Las Colinas del Ebro Garnatxa Blanca was from Catalunya, Spain. This was also a light yellow color that offered citrus and mineral notes.
Our last offering was a brandy from Tariquet VS Classique from Bas Armagnac, France.  This brandy had a gold color. There was alcohol, caramel and vanilla on the aroma and the taste offered dried fruits.
One of the pleasures of attending Taster's Guild events is that the other people there are also wine enthusiasts.
Cheers,
Terry