The Maryland chapter of the Taster's Guild holds monthly wine tastings for its members and guests. Yesterday's tasting took place at Tersiguels Restaurant in Ellicott City, Maryland. The French restaurant, in a 19th century house, was the setting for pairing wines with tastes of a Thanksgiving meal.
Upon arriving we were served a cranberry spritzer. Prosecco, cranberry juice, lime juice and a couple cranberries made for a delightful first drink. The light red color was a subtle reminder of the holidays. The spritzer also aided in conversation with the over fifty people that showed up divided between two rooms.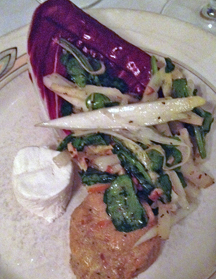 The first dish served included a turkey pate, goat's cheese and salad. Spy Valley Gewürztraminer, New Zealand, 2011 was paired with the turkey pate. The wine had a straw color and was floral. The floral taste was also accompanied by mineral notes. This wine would match well with turkey served on Thanksgiving Day.
The second wine was paired with the goat's cheese. The Purple Hands Pinot Noir, Oregon 2011 was a translucent red color. The wine offered a red cherry and oak aroma and taste. It was light bodied and had mild tannins. Leather was noted on the aftertaste. The wine paired with goat cheese, and the acid from the Pinot cut the creaminess of the goat cheese. The combination gave the wine a bit of a cranberry taste added to the aftertaste.
The third wine was matched with the salad. The Marques de Caceres Rose, Spain, 2012 was a blend of Tempranillo and Granacha  Tinta. The color was a reddish pink with an orange hue. It matched with the salad.
The second dish was a squash relish. This was paired with a Broadbent Gruner Veltliner, Austria, 2012. The wine was a straw color that offered mineral and citrus. It was commented that the wine reminded one of a fresh spring rain. The citrus of the wine paired with a squash relish and helped to cut the garlic  flavor of the relish.
Our next dish was a butternut squash soup. This was paired with a Pewsey Vale Dry Riesling, Australia, 2012. This wine was a light straw color with mineral and petro aroma and taste. It matched well with the butternut squash soup
We also tasted a Domaine de Montmarin Viognier, France, 2012. This wine had a  light straw color and was floral and crisp. It was a favorite of many people at our table and served as a palate cleanser.
We finished the wines with an Emilio Lustau Capataz Andres Deluxe Cream Sherry. This wine was a burnt amber to brown color and offered dried fruits on the aroma and taste. This was dessert.
Thanksgiving Dinner is full of flavors and a single wine is difficult to pair with everything that appears on many tables. Consider serving several wines that match different foods served.
Cheers,
Terry