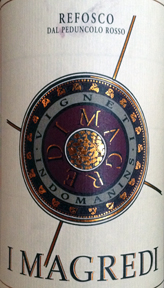 We opened a 2011 Refosco from I Magredi to pair with our dinner last evening. This red wine from the Friuli region of Italy was made from the Refosco dal Peduncolo Rosso grape. This is the most widely planted variant of the Refoschi family of grapes in Northern Italy. The dal Peduncolo Rosso refers to the stems and jacks of the grapes turn red as the grapes mature on the vines. The wine was a deep dark ruby to purple with a light purple rim. It was fruity with plum and cherry notes. Tobacco and licorice hints were also noted. The wine had mild tannins. The wine was rather crisp. The grapes were picked later during the harvest time and still maintained good acidity.
Cantina I Magredi is an Italian winery where visitors are welcome to stop by without an appointment. The logo for the winery as seen on the bottle label can also be seen on a large stone near the tasting room.
We observed that this logo is also present in the vineyard design during our early spring visit in 2013. In 2008 the most recent vineyard was planted with an unusual pattern. This particular vineyard is planted in a large circle with rows radiating out from the center where a lone mulberry tree stands majestically surrounded by white wrought iron benches. The rows of vines are wide at the circumference and narrow at the center. The circular vineyard is the logo for I Magredi. The center of the vineyard is used for special wine tastings.
Cheers,
Terry