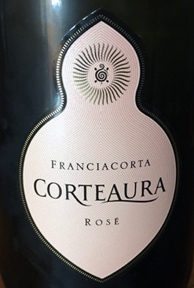 Judging cavas and sparkling wines opens access to some sparkling wines that I have not tried. One of these is Franciacorta. This sparkling wine hails from the Brescia Province, Lombardy, Italy. Like cava and champagne, franciacorta is made in the traditional method where the second fermentation takes place in the same bottle as the wine is sold to consumers. There are different types of franciacorta based on the length of time the sparkling wine ages. The Franciacorta non?vintage is aged for 18 months whereas the Franciacorta Satèn sees 24 months of aging. The Franciacorta Rosé is aged for 30 months and the longest aging goes to the Franciacorta Riserva that has to age for 60 months. These are just minimum aging times. Compared to cava and champagne, Franciacorta sparkling wines are aged longer.
We tasted the Corteaura Rose. The wine was an even blend of Pinot Noir and Chardonnay. It was aged for 36 months. The sparkling wine is a reddish orange color with multiple columns of beads forming a mousse in the surface. Red berry fruit like strawberries and raspberries tickled the aroma and were confirmed on the taste. Also on the taste there were freshly baked bread nuances. This is a delightful sparkling wine. The alcohol was 12.5%. We drank the sparkling wine as an aperitif that wet our appetite for dinner.
As of last year, there were 109 producers of franciacorta. The vineyards used to make this sparkling wine are planted in 82% Chardonnay, 14% Pinot Noir and 4% Pinot Bianco. In 2014, there were over 15 million bottles produced and exports accounted for ten percent of the sales.
Cheers,
Terry