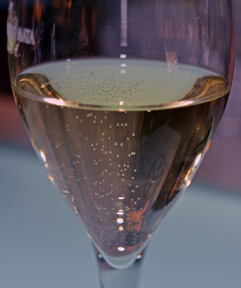 This past year, Kathy and I have had an opportunity to judge wines in blind tastings. Last July we judged over 40 wines from Santa Barbara County in California. Then in January of this year we judged ten Virginia sparkling wines. The largest judgement came this past week. We were judging close to 150 cavas for 50 Great Cavas. What these blind analyses taught me is that judging wines, cavas and sparkling wines is work. It is one thing to concentrate on the wine and try to give a fair score. There is quite another to taste a wine at a winery and write and enjoy it in the ambiance of the environment. One is pleasurable, the other is work.
When judging wine, one uses quantifiable data, usually numbers, rather than verbiage to describe what is in the glass. If the aroma is lacking, a low score is awarded for that criteria as opposed to an expatiation that may not read all that severe. The level of concentration is different when judging as opposed to tasting. When judging, I tried to be fair to the producer, not knowing who that producer was. However I had to judge the wine for what it was, not what I wanted it to be. In contrast, when writing about a wine, I have the freedom to describe the wine in words that fit. If a wine is faulted, I usually do not write about it. You do not have that freedom when judging. A faulted wine deserves a lower score.
Because of the intense concentration, after a judging sessions you are usually worn out. You need to rest and that often involves drinking some of the wines and not thinking about them. We did that with the cavas. It was so relaxing to just pour a glass and enjoy the sparkling wine rather than having to think about it. Would I ever judge again? Certainly, even though it is work, I enjoy doing the work. How did I compare to the other judges? Well there were times that my scores differed from the others. Most often, though, my scores were within one of the final score. I think that is rather outstanding. That median was constant for all three judgements.
Cheers,
Terry