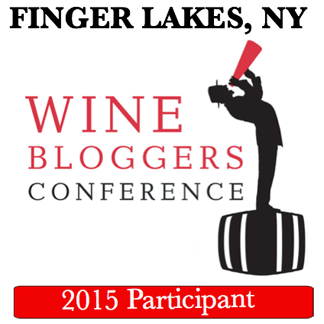 This year's Wine Bloggers Conference returns to the east on August 13th – 16th in Corning, New York. The conference attracts not only wine bloggers, but also wine writers and authors. Kathy and I have attended some of the previous conferences. The last trip to the east was in 2011 during a heat wave in Virginia. The state did a wonderful job as conference hosts, except for the weather. The conference took place in Charlottesville. One of the evening activities was a dinner at Monticello. This wonderful, historic venue should have been a highlight of the conference, but with temperatures in the low 100s in the shade, it seemed to take the starch out of the attendees. Corning, New York in August should not have those extreme temperatures. We can expect temperatures in the 70's near 80.
We also attended the following year where the conference moved back to the West Coast. Portland, Oregon was host and another evening was spent at various wineries with temperatures in the upper 90s. There was an unusual heat wave in Portland. The conference was still great even though one evening was a bit uncomfortable.
During this year's conference, we will once again explore some of the Finger Lakes wineries. Many of our first and second year winery visits were in the Finger Lakes. We visited and wrote about 56 wineries in this wine region. Also different in this year's conference is that I am on a panel "Blog to X." The panelists have leveraged their experience blogging to consult in social media, write a book, get a winery job, or even create wine events. I will present how our blog and website provided the framework for three of our books.
The Finger Lakes provides the backdrop for one of America's most beautiful wine regions. It is good to see an emphasis placed on New York and this area that is home to three American Viticultural Areas: Finger Lakes, Cayuga Lake and Seneca Lake. The area has more than 100 wineries. We have visited about half of them. Many more have opened within the last few years.
If interested, read our articles about Finger Lake Wineries and follow our Wine Bloggers Conference articles and blog posts.
Cheers,
Terry