We received a request to sample a Cabernet Franc from a winery in Brazil. The business traces its founding to 1910 by the family of Italian immigrant Antonio Domenico Salton. This is one of the oldest family run wineries in Brazil. The third generation is grooming the fourth generation to run the business in the future.
The winery produces a portfolio of wines in seven different collections. The Cabernet Franc we received is part of the Convivium Collection. The average price in the United States is $14 according to wine-searcher.com. Grapes for the wine were sourced from the Campanha wine region in Southern Brazil. The grapes were harvested in the second half of March (Southern Hemisphere).
The winery is opened daily for wine tourists. The winery offers different tour packages that include winery tour and tastings from the different collections.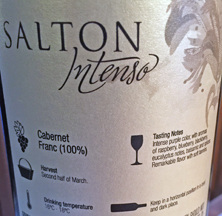 The 2012 Salton Intenso Cabernet Franc had an opaque dark ruby to dark purple color. The intense aroma offer dark fruit and spice notes. The taste reminded me of blackberries, black raspberries, and cloves with a hint of cinnamon. The full-bodied wine had mild tannins and the finish was crisp with fruit yielding to baking spices. The back label of the bottle is very consumer friendly. Graphics and few words are used to inform the buyer of the grape variety, when the grapes were harvested, drinking temperature, tasting notes and bottle storage. Regarding storage, the 2012 could benefit with additional storage for several years. It would be interesting to try this vintage after seven and ten years. The wine pairs well with tomato based sauces used on pasta or stuffed peppers.
This is the first wine, that I can recall, that I have tried from Brazil. Most of the South American wines I have tasted were from Argentina, Chile and Nicaragua. Inspired by this wine and with the weather turning colder in Central Maryland, Kathy and I decided to make chili. Added to the crockpot was a cup of Salton Intense Cabernet Franc. Throughout the day, when taking off the lid of the crockpot to stir the chili, there were wonderful aromas of the Cabernet Franc. The recipe is below. Enjoy!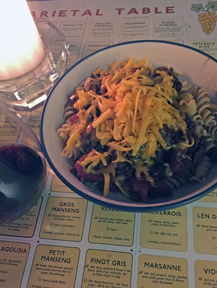 Crockpot Chili
Ingredients
1 sweet onion
2 cloves of garlic
extra virgin olive oil
1 lb ground beef
1 can 28 oz diced tomatoes
1 15.5 oz can black beans, drained
1 c Cabernet Franc
Spices: pepper, salt,
4 T Penzey's Chili Powder (regular)
Directions
Dice sweet onion and garlic.
Sauté the onion and garlic in a skillet thickly coated with olive oil.
Add to the crockpot the tomatoes, black beans, Cabernet Franc and the sautéd onions and garlic.
Set crockpot to medium heat setting.
Brown the ground beef and add to crockpot.
Add salt, pepper and chili power to crockpot. Cover.
Cook on medium heat for 8 hours.
Recipe by Terry Sullivan, Wine Trail Traveler
Cheers,
Terry