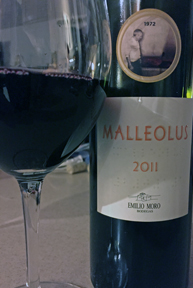 We received a sample of Tempranillo from Emilio Moro and was interested in how this would pair with traditional holiday fare. I decided to try pairing the Tempranillo with a turkey and sausage recipe, slow cooked in a crock-pot for eight hours. I do enjoy crock-pot cooking, and the flavors often exhibit a marriage together.
The 2011 Malleolus Tempranillo by Emilio Moro was made with grapes from the Ribera del Duero region of Spain. In this region, Tempranillo is also referred to as Tinto Fino. The Malleolus 2011 retails for $44.99. The wine, at 14.5% alcohol, was a very dark purple to black color. The powerful aroma of black fruits and vanilla appear as soon as the cork is removed from the bottle. In the glass the aroma is more fruit intensive. Blackberries, plums and black cherries were noticed on the taste. The full-bodied wine had silky bold tannins. Fruit yielded to oak influences on the finish. The long aftertaste ended with a slight earthiness that longs for autumn's harvest.
This fruit forward wine was wonderful to use as an ingredient to cook with. The turkey picked up a bit of the dark fruits from the wine. Both the turkey and the sausage were very tender and full of flavor. Early I learned that if you cook with a wine you can pair the meal with that wine. If you enjoy turkey for the holidays, match it with the 2011 Malleolus Tempranillo by Emilio Moro.
Emilio Moro Bodegas
A motto of the winery is, "A great wine emerges when nature, terroir and history coincide." The Moro family spans three generations of wine growing and winemaking. Today the family has 400 hectares (almost 1,000 acres) of vineyards. The original vines were planted in 1932 in the historic vineyard. However an even older vineyard called Valderramiro, was planted in 1924. Soils are made of clay with patches of chalk. The Malleolus 2011 was made from grapes that were harvested from 12 to 25 year-old vines.
Crock-Pot Turkey, Sausage and Tempranillo
For additional flavor, I chose fresh sage and parsley to add to the crock-pot. We usually have an abundant crop of parsley and sage that we frequently use for chicken and turkey dishes.
Ingredients
1 lb of mild Italian sausages
1 turkey breast
1 medium-sized onion, chopped
2 cloves garlic, minced
olive oil
3 sprigs of sage
3 sprigs of parsley
3 cups of water
1 cup of Tempranillo
salt and pepper to taste
Directions
1. Brown sausage in a skillet over medium heat.
2. While sausages are browning place 3 cups of water and 1 cup of Tempranillo into a crock-pot.
3. Add turkey breast to the crock-pot.
4. After sausages are browned, add them to the crock-pot.
5. Coat the bottom of the frying pan with olive oil.
6. Sauté garlic and onion.
7. Add sautéed onion and garlic to the crock-pot.
8. Cut sage and parsley into small pieces and add to the contents in the crock-pot.
9. Cook on low for 8 hours.
Recipe by Terry Sullivan, Wine Trail Traveler
Cheers,
Terry