In November of 2016, the Wine Tourism Conference will take place in the Texas Hill Country. This conference will bring world-wide recognition to this wine region of Texas. For those interested in traveling to the charming town of Fredericksburg, one easy option is to fly into Austin and drive the one and a half hours westward. On the way there are numerous wineries to visit. About 42 minutes from the airport is Solaro Estate.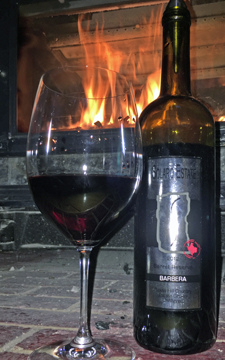 We visited the winery in August of 2014 and enjoyed the wine and tasting room next to vineyards. We learned that the Solaro family had been making wine in Italy for over two centuries. The family owned most of the current property during the nineteenth century, but moved away to other parts of Texas. In 2000, there was an opportunity to purchase much of the original acreage. The decision of "What to do with the property" resulted in planting a vineyard and making wine. Barbara was planted on the property from 2006 through 2008.
On a cold February where our Central Maryland temperatures dipped to a single digits, we opened a bottle of the 2012 Barbera Barrel Reserve. The translucent ruby colored wine had a dark pink hue around the rim. The wine was aged for ten months in French oak and five months in American oak. The 11.5% alcohol wine put forth a floral, red fruits and spice bouquet. The taste reminded me of cherries and raspberries with a touch of cloves. The wine had medium tannins and was medium-bodied. We enjoyed this estate wine paired with pizza by our wood burning stove.
The Texas Hill wine region has many wine enthusiasts visit each year. Solaro Estate Winery is conveniently located just 40 minutes west of Austin.
Cheers,
Terry