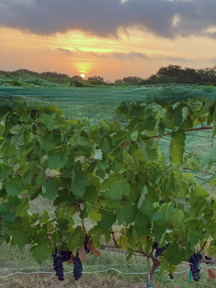 Kuhlman Cellars is located east of Fredericksburg, Texas along Rt 290, a wine route dotted with many wineries/tasting rooms in the Texas Hill Country. We received two samples of their red wines. Grapes sourced for each of the wines came from the Texas High Plains AVA. 
We learned that the winery was a passion for Chris and Jennifer Cobb. Their desire to build a winery and craft wines began as the couple toured wineries in Napa. The passion became a reality as Kuhlman Cellars opened to the public in 2014. Prior to the opening, Diane and Reed Cobb, Chris' parents, managed a small vineyard just north of the present site of the winery. The estate vineyard is almost seven acres. It is planted with Mourvedre, Marsanne, Roussane, Carignan and Aglianico. There is not much Aglianico planted in the United States. We tasted many wines made from Aglianico while touring wineries in the Campania region of Italy.
Bénédicte Rhyne is the winemaker for Kuhlman Cellars. She received her Masters in Enology from Universite de Bourgogne in Dijon, France. She spent a decade in California, mostly Sonoma County at Ravenswood Winery. She brings both old world and new world winemaking processes to Kuhlman Cellars.
Kuhlman Cellars is helping create a wine culture in the Texas Hill Country with their program Vina Vita University. The program offers wine classes for wine enthusiasts and wine club members. In late January they offered a Winter Pruning Class (pictured left); February offerings include a Decoding the Aroma of Wine class and a blending class.
2016 Reserve Merlot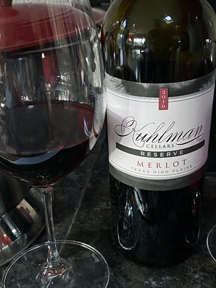 The 2016 Reserve Merlot was crafted with Merlot grapes from the Texas High Plains AVA. The wine spent 30 months aging in French oak barrels. With 13.9% alcohol, the wine had a translucent dark ruby color with a red hue. The aroma was reminiscent of a fruit salad with baking spices. The taste included red and black raspberries, cherries, leather and baking spices. The medium/full-bodied wine had medium/bold tannins. We paired the wine with beef vegetable soup. Some of the wine ended up in the soup.
2017 Sangiovese
This Sangiovese was crafted with grapes from the Newson Vineyards in the Texas High Plains AVA. The wine had a translucent red color with14.2% alcohol. The aroma offered flowers and red fruits. The taste was suggestive of red cherries with violets and lavender. The medium-bodied wine had medium to bold tannins. The fruity and floral finish yielded to spices and oak on the aftertaste.
You can taste Kuhlman Cellars wines at their Texas Hill Country location. They offer three different tasting experiences and reservations are encouraged. During our next trip to Texas Hill Country, Kuhlman Cellars will be a must visit.
Cheers,
Terry