At the 2020 Barolo Brunello Barbaresco wine tasting hosted by Empson USA in Washington D.C., wines from the Marcarini winery were presented. The winery is located in La Morra in the Cuneo province of Italy. The winery has a long history and dates back to the 1850s. Marcarini winery was one of Italy's first wineries to label wines as single vineyard designate.
In 2020, the winery is owned by Manuel Marchetti and his family. Manuel's daughter, Elisa, is the winemaker and Andrea, a son, oversees the estate winery and vineyards. Marcarini has 20 hectares (49 acres) of vineyards. Grape varieties growing in the estate vineyards include: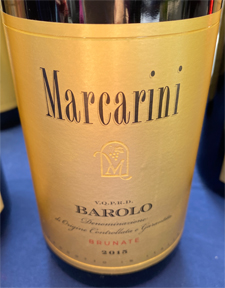 Nebbiolo, Dolcetto, Barbera, Arneis and Moscato Bianco. The wines produced by Marcarini are estate grown and bottled.
Marcarini encourages agritourism by offering an onsite farmhouse available for booking. While we have not visited Marcarini, the farmhouse online images provide a glimpse of what guests can expect to enjoy.
I tasted three wines from Marcarini. The Barolo "La Serra" DOCG 2016 was produced with 100% Nebbiolo. The wine was made with the use of stainless steel and concrete tanks. It was macerated on the skins for three to four weeks. Slavonian oak ages the wine for 24 months, followed by aging in the bottle for six months. This wine is very "approachable." The color was a rusty red and the aroma was light. This dry wine offered smooth tannins with floral notes, cherry/plum and spice.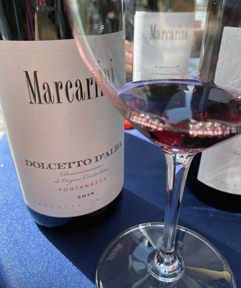 The Dolcetto D'Alba "Fontanazza" DOC 2018 was produced with 100% Dolcetto. The single vineyard wine was from grapes from 17 to 36-year-old grapevines. This Dolcetto wine was produced in stainless steel and concrete tanks. The wine was aged in stainless steel. The wine offered mild tannins and notes of black fruit and earthiness.
Barolo "Brunate" DOCG 2015 was produced with 100% Nebbiolo grapes from a single vineyard. The grapevines range in age from 32 to 41-years-old. Winemaking protocol includes the use of stainless steel and concrete tanks. The 14% alcohol wine was aged in oak casks for two years. The result was a wine that had a burnt orange color. The mouthfeel was velvety smooth. The taste included notes of spice, earthiness and black cherry.
The Nebbiolo Delle Langhe "Lasarin" DOC 2018, a 100% Nebbiolo wine, was from two Marcarini vineyards. The grapevines are 19-years-old. This wine was also produced with stainless steel and concrete tanks. This wine had more of a fresh fruit taste with medium tannins.
Marcarini wines are exported to several regions of the world including: Hong Kong, Japan, UK, Canada, USA, and China.
Cheers!
Kathy