Four generations of the Einaudi family have crafted wines. I had an opportunity to taste three Barolos from their portfolio at the Barolo, Brunello, Barbaresco tasting in Washington DC last month. The tasting was organized by Empson USA. Poderi Luigi Einaudi was established by Luigi Einaudi in 1897 in the Dogliani in the province of Cuneo. Luigi originally sold the grapes until 1915 when he had the cellars built and began to make and sell wine. Luigi Einaudi served as President of the Italian Republic from 1948 – 1955.
Today the estate is under direction of Luigi's great grandson Matteo Sardagna Einaudi. The winery has 63 hectares (156 acres) of grapevines planted that totals 358 acres in several areas.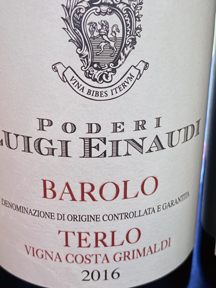 Wines
The 2016 Barolo "Cannubi" DOCG was made with Nebbiolo grapes from the Cannubi Cru. The vineyard soil is composed of gray white marne of Sant'Agata which consists of 55% clay, 30% sand and 15% limestone. The fermentation and maceration time took a bit over three weeks. The wine was then racked to large barrels where it aged for thirty months. Afterwards the wine continued to age in bottles. This Barolo had a translucent garnet color. Cherries and flowers were noted on the aroma. The taste offered cherries, violets and some baking spices. The wine had a silky mouthfeel and was full bodied with bold tannins. Fruit and spices were on the finish.
The 2016 Barolo "Ludo" DOCG was a blend of Nebbiolo from three crus: Cannubi, Terlo and Bussia. Fermentation and maceration lasted for 16 days. Half of the wine aged in large oak barrels for 30 months, while the other half aged in barriques for 18 months then racked to large barrels for an additional year. After bottling, the wine aged for 8-9 months before being released. The wine had a translucent garnet color with a perfume and cherry aroma. The taste included violets and cherries along with tobacco and baking spices. The velvety wine was medium/full bodied and had bold tannins. The finish was fruity and spicy.
The 2016 Barolo Terlo "Vigna Costa Grimaldi" DOCG was crafted with Nebbiolo grapes from the Costa Grimaldi vineyard in the Terlo cru. The vineyard was composed of a marly- calcareous soil. The fermentation/maceration lasted for 24 days. Thirty months of aging took place in large oak barrels followed by 8-9 months in bottles. The wine had a translucent garnet color with a sienna hue. Perfume and red berries were on the aroma. The taste included cherries, red raspberries and licorice. The velvety mouthfeel was accompanied by bold tannins on the full bodied wine. The finish had fruit and spice notes.
Poderi Luigi Einaudi offers three different winery tour experiences ranging in times from 90 minutes to 150 minutes. If you enjoy Barolos try one from Poderi Luigi Einaudi.
Cheers,
Terry