Three years ago we visited wineries in Indiana and discovered large and boutique wineries offering a variety of experiences. One of the larger wineries we stopped at was Oliver Winery & Vineyards in Bloomington.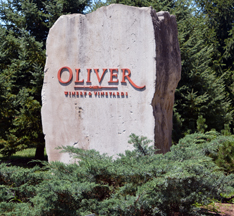 Oliver Winery & Vineyards offers a wide variety of experiences.
COVID-19 has caused the winery to adapt the experiences; however, many of the experiences are currently available with certain limits.
At Oliver Winery, the following is open with some adaptations. The retail shop and tasting room are open but with a limited capacity and social distancing. The Lower Patio and Hillside have seating with limited capacity and also social distancing. The Hillside venue is also limited to groups of up to six. Reservations for picnics require bookings and only for a maximum of four people. Reserved wine flights for up to four people are available and the winery recommends advance reservations for weekends. According to the winery's July 6 update, live music and wine tastings are not taking place. Watch the winery website for changes to the current adaptations
Oliver Winery offers several types of wine clubs that reflect the types of wines people enjoy. Members can receive wine by shipping or pick-up. Other specials for members include wine, food and merchandise, private event rentals and special events ticket discounts.
Oliver Winery Tasting Room
Creekbend Club is an exclusive club that recently opened for new participants. The wines in this club focus on Indiana wines from estate bottles from the Creekbend Vineyard collection. Shipments of six bottles (with 15% off) are in April and November. Members receive six complimentary individual wine tastings in the tasting room. (Est cost: $100 to $125 plus shipping and taxes.) Members will also receive access to new release and library wines pre-sales.
The Drier Side Club: As its name suggests, this club focuses on dry red and white wines. Shipments of six bottles are sent out in April and November. Est. cost is $85 to $125 plus shipping and taxes.
The Sweeter Side Club: The focus for the Sweeter Side Club is on semi-dry, semi-sweet and dessert wines. Members will receive six bottles of wine in April and November. The cost is $65 to $85 per selection plus shipping and taxes.
It should be noted that the winery ships wine to more than 30 US states. So if you are hesitant to visit, consider ordering wine from Oliver Winery online.
Check out the Wine Trail Traveler article about our visit to Oliver Winery & Vineyards.
Cheers, Kathy