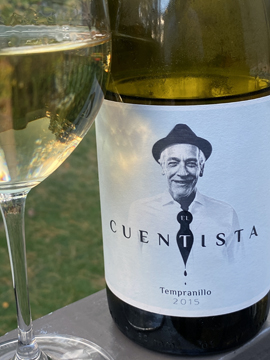 For wine enthusiasts, international grape variety days gives a cause to celebrate different grapes. In 2020, on November 12th, we can celebrate International Tempranillo Day. The grape is native to Spain, and is also planted in other countries throughout the world including the United States. Our favorite Tempranillo from the United States is from Southern Oregon.
This year, to celebrate the day, we tasted five Tempranillo wines from Pradorey winery in the Ribera del Duero wine region of Spain. The winery sent us samples. For this blog post, Terry wrote haikus for each wine rather than traditional wine notes. The wines included a white Tempranillo and a Tempranillo made in earthen vessels called tinaja.
2015 El Cuentista, a white wine made with 100% Tempranillo
Haiku
White Tempranillo
Nectarines and vanilla
Fruit and mineral.
2015 Finca Valdelayegua, Tempranillo with a splash of Cabernet Sauvignon and Merlot
Haiku
Single vineyard blend
Garnet color with black fruits
Spicy notes throughout.
2016 Adaro, 100% Tempranillo
Haiku
Adaro – founder.
A tribute with berry fruits
Baking spice finish.
2014 Élite, 100% Tempranillo
Haiku
Elite the unique,
Great fruit, spice, body, tannins.
Drinks expensively.
2016 El Buen Alfareo, 100% Tempranillo made in tinaja
Haiku
A good potter wine.
Grown in earth; made in earth.
No oak, delicious.
Cheers,
Terry