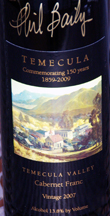 When I was ten years old I remember walking to K-mart and standing in line for what seemed to be hours to get an autograph from my then hero, Al Kaline of the Detroit Tigers. I was never in to getting autographs from movie stars or authors. When my children were growing up they too managed to get some sports autographs, most notably Cal Ripkin Jr. Just a few years ago my daughter gave me an autographed bottle of wine. The winemaker of the 2004 Bibich Riserva was promoting his wines in New York City when Erin had a bottle autographed with a silver pen.
I didn't realize how important autographed bottles of wine were to some. After all, we visited more than 300 wineries and have not received an autographed bottle. That was until we visited the wineries in Temecula, California. Autographing bottles of wine with gold or silver pens is taken seriously. We have autographed bottles of wine from Ponte Family Estates, Thornton Winery and Baily Vineyard and Winery. While talking with the winemaker and assistant winemaker at South Coast Winery, a staff member from the tasting room brought a bottle of wine for them to autograph.
So now I have several autographed bottles of wine and am wondering what to do with them. I haven't opened the Bibich Riserva yet. Should I let them age, keep the bottles as collector items or go ahead and drink the wine? Does having an autographed bottle of wine make a difference?