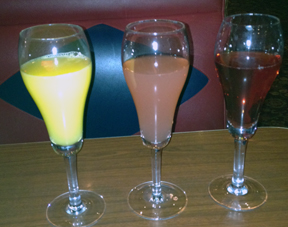 Last night we decided to go out for dinner. As it was we needed to purchase a bottle of wine to top off the wine in our homemade wine so it wouldn't oxidize. So we headed in the direction of a wine shop looking for a restaurant we hadn't been to before.
It wasn't long before we came upon Mimi's Café. Figuring it would be a quick stop, we were pleasantly surprised by the decor, menu and friendly staff. We thought the prices were competitive. As it turned out they offer Happy Hour specials until 7pm on weekdays. The current specials included red wine, white wine and sparkling wine flights. The red and white flights are made up of three different wines with two ounces of each. The sparkling wine flight was unique. Three wine glasses were partially filled with orange, strawberry and cranberry juices. A Brut Cava split accompanied the glasses with the instructions to add the Cava to each glass. My favorite was the mimosa a combination of the orange juice and Cava.
My only critique of the restaurant was their wine list. Wines were all from the West Coast or imported. Why not add a few wines from the states in which the Mimi's Cafés are located? For me, it would have made the restaurant even better to have local wines also available.
Mimi's Café is a chain of stores located in the southern half of the United States. If you haven't been to Mimi's Café give it a try sometime. In addition to dinner entrees, breakfast and lunch are served.
Cheers! Kathy