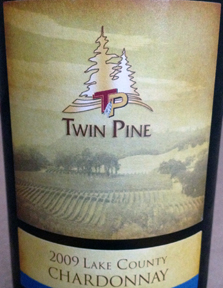 The Twin Pine Lake County Chardonnay is a surprising Chardonnay that offers a complexity not often associated with a house wine. Even the venue that offers this Chardonnay is unique. The wine had an aroma of pineapple and caramel. The taste was ever changing with hints of pear, pineapple apricot and caramel. there was a smooth mouthfeel and fruity finish. The wine is a good stand alone wine or paired with food.
Twin Pine is a casino in  Middletown, California. They have two of their own wines, the Chardonnay and a Petite Sirah. Both wines were bottled and produced by Langtry Estate & Vineyards. Visitors to the casino will notice the wine theme throughout. The gift shop has a nice selection of wines, including those under the Twin Pine label. They also offer wines from the "Winery of the Month." Each month the casino spotlights an area winery. Visitors can participate in a wine tasting while at the gift shop. The wine theme continues in the restaurants with large prints of wine-related paintings. Vineyard-themed chandeliers hang over the casino gaming area.
Whether you go for the wine or go for the games, Twin Pine Casino offers their own labeled wines to enjoy.
Cheers,
Terry