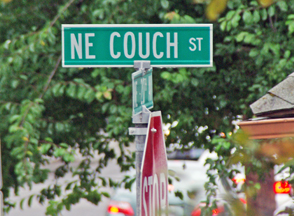 Returning the rental to Enterprise after a day of wine travel in the Willamette Valley, Kathy and I asked if they would give us a ride to our son's house. An Enterprise employee asked where does he live and I responded on Couch Street. I pronounced Couch as  "kouCH", a piece of furniture. A discussion followed about Portland names. Couch is pronounced "kooch" and rhymes with pooch. The street was named after John H. Couch, one of the founders of Portland, Oregon. John was from Massachusetts and captained a vessel named Maryland.
We talked about a few other Portland names that are frequently mispronounced. Glisan Street is often mispronounced. It is only a few blocks away from the site of the 2012 Wine Bloggers Conference. Glisan is pronounced as "GLEE-san". It was named after Rodney Glisan, who happened to be born in Maryland. He married, Elizabeth, the daughter of John H. Couch.
Perhaps the most mispronounced university in the country is Willamette University. Wine people will undoubtedly need to pronounce the word Willamette when referring to Oregon's world famous wine region. It is pronounced as "Will-AM-it". It rhymes with a mild expletive. The Willamette River is just a few blocks from the WBC 12 Conference site.
As we prepare to get local with Oregon's wines, we can also get local with a few pronunciations.
Cheers,
Terry