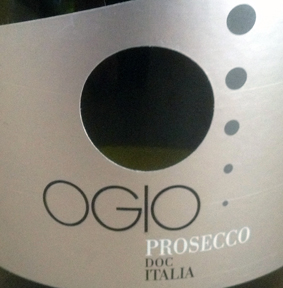 Have you ever had a wine that evokes a memory? Our children will immediately say, "Grandma's house," when they smell a wine made with Niagara grapes. It recalls the summer days that they would roam the fields in upstate New York and discover Niagara grapes. While in North Carolina we were told on several occasions that the Muscadine family of grapes do the same thing. They evoke memories mostly of childhood when these large grapes were growing in backyards. We have also heard similar stories about Italian grapes.
I was very surprised at my initial reaction to a Tuscan Red by Ogio. We had received three samples of Ogio wines. The aroma of the Tuscan red was unmistakably Sangiovese and my immediate reaction was the memory of the two weeks we spent on a vineyard in Toscano in 2007. This 2011 Tuscan Red is a blend of Sangiovese 85%, Cabernet Sauvignon 10% and Merlot 5%. This ruby colored wine had red cherries and spice on the aroma and taste. The oak influence was a light mixture of licorice and tobacco. There were mild tannins on the fruity finish. The wine evoked memories. It has been quite awhile since I last had a Sangiovese based wine.
We recently returned from exploring thirteen wineries in the Friuli -Venezia Giulia region of Italy. Another Ogio wine we received was a 2011 Pinot Grigio made with grapes from the Friuli and Veneto regions. The wine was a light straw color with citrus predominating on the aroma and taste. The wine offered a crisp finish. Absent was the mineral characteristic that I remember from many of the Pinot Grigios made nearer to eastern border of Italy. While we were in Friuli we had and enjoyed several Proseccos. Ogio also makes a Prosecco from the Glera grape. The grapes were harvested in the Prosecco DOC, an area emcompassing parts of Friuli and Veneto. We decided to open the Ogio Prosecco after a grueling day of helping our son move. After moving heavy boxes down stairs and over a football field away to a pod, we were ready for some relaxation. The Prosecco was a great choice. The wine was refreshing with notes of apples, peaches and flowers. It was a great pick-me-up.
Ogio's labels are simple and modern looking. The large see-through "O" helps one remember the name. We have been back from our trip to Italy for a couple of weeks. These Ogio wines brought back many memories of the wines, people and land.
Cheers,
Terry