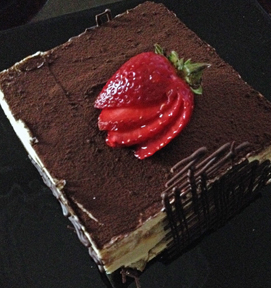 Sometimes it's hard to celebrate a birthday away from friends and family. That may even be sadder if you are 10,461 km (6,500 miles) away from home. That is unless you are in Sakartvelo, the country Georgia. Here, visitors are treated as guests. This is our second visit and we are treated like family.
Unexpectedly on our bus ride of the International Wine Tourism Conference media group from Signaghi to Tbilisi, a chorus of Happy Birthday broke out. Then Kathy was greeted at the Tbilissi Marriott with a "happy birthday" from the receptionist. An unexpected knock on the door revealed a birthday cake from the hotel. This is Georgia!
We usually spend over 30 days a year in hotels. The Tbilisi Marriott deserves special praise. Their staff make this an incredible hotel. This includes all their staff: reception, cafeteria, bellboys; everyone will go the extra mile to make your stay something special. This was a wonderful venue for the International Wine Tourism Conference. Kathy is pleased with the unexpected attention she received on her birthday so far away from home.
Happy Birthday Kathy,
Terry