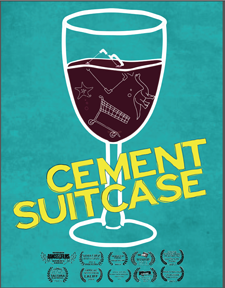 One can be the ultimate salesman, but when things fall apart and one reaches the bottom, there is only one way to go and that's UP. Moving up bears its own challenges.
The movie takes place in Washington's Yakima Valley and portrays the main character, Franklin, played by Dwayne Bartholomew, at his best and at his worst. Franklin has been buffeted by numerous life events including the death of his mother, the unfaithfulness of his girlfriend Charlene, played by Kristina Guerrero, the bank sending past due payment notices for the house mortgage and more.
The best of Franklin's life happens at the Airfield Estate Winery where he is a remarkable tasting room manager. He has many of the characteristics necessary to sell wine. He is personable and can relate to everyone who comes into the tasting room. People who come into the tasting room and meet him always leave smiling and buying wine.
However, in the tasting room he also encounters problems including trying to work with the owner's daughter. Franklin's work ethic when not engaging customers leaves little to be desired.
A drifter from Australia, Jackford played by Nathan Sapsford, arrives and works his way into Franklin's life in both good and bad ways. He rents a room, which helps Franklin to pay a part of the mortgage for a while; but he also breaks a memento of Franklin's mother. Jackford also encourages Frankford to leap out of his comfort zone and handle the consequences creatively. How would you diffuse a loaded shotgun aimed at you?
Should Franklin stay and deal with all of his problems, which are weighing him down like a Cement Suitcase or should he leave and search for himself unhindered by the past?
After visiting more than 1,000 wineries and tasting rooms, we carefully watched as Franklin worked his charms in the tasting room. It was obvious his friendliness and communication with customers was leaving a wonderful lasting impression on visitors. Franklin engaged Airfield Estate's visitors and rather than reciting a monologue about the wines he included the wine enthusiasts with dialogue. This is a lesson all tasting room staff worldwide need to learn. In the movie, there was every indication visitors to Airfield Estates would remember this winery, thus creating wonderful wine ambassadors for the winery.
Winery owners and tasting room staff would benefit from watching Franklin, during his better moments, at work in the winery.
Cement Suitcase is available on Video on Demand from many outlets including iTunes and Amazon. Check the Cement Suitcase website for additional sales opportunities. Watch for tomorrow's post, an interview with Cement Suitcase writer/director Rick Castañeda. To learn more about Airfield Estates read the WineTrailTraveler article.
Cheers,
Kathy and Terry