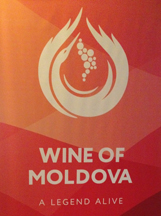 On Monday July 28th, Kathy and I attended a tasting of Wine of Moldova in Washington D.C. Eleven producers were set up at tables pouring 32 wines representative of the four wine regions in the Southeastern European country. My first impression is that the wines, including international varieties, Georgian varieties and native varieties were very expressive of the minerality and earth of the region. This expressiveness reminded me of the wines from Prince Edward County in Ontario, Canada and Marlborough in New Zealand, two wine regions that produce wines that are also revealing of the soil.
After tasting several white wines, the white wines made from the indigenous grape Feteasca Alba were my favorites. Several wineries had this wine at the tasting. Cricova was my favorite. The light yellow colored wine offered yellow stone fruit and minerality on the aroma and taste. There was a crisp finish with a lingering fruit aftertaste. This wine would pair well with fruit as well as make a good 3P wine (porch, patio, pool). Other white wines tasted included a Sauvignon Blanc that was reminiscent of Marlborough Sauvignon Blanc, a couple different Chardonnays, a Pinot Grigio, a Traminer and a white blend of Chardonnay, Pinot Grigio and Pinot Blanc.
There was one white Brut Sparkling Wine also by Cricova made by the traditional method with Chardonnay and Pinot Noir. This was the first wine tasted and a great first wine to taste at the event since it was palate cleansing  and introduced the minerality that would be tasted in all the wines. Perhaps the best white wine to taste last was the Chateau Vartely Ice Wine Muscat Ottonel 2011. The sweetness of this wine along with the the orange blossoms masked, to some extent, the mineral and earthiness of many of the wines.
Curious about the earthy and mineral character of the wines, I mentioned this to Dumitru Munteanu, Director of National Office of Vine and Wine in Moldova. Dumitru mentioned that at one time the land that makes up Moldova was under a sea. The rich fertile soils are black in color and these soils give the wines the unique mineral and earthy characteristics.
Will American consumers have an opportunity to taste wine of Moldova? Hopefully some stores will begin to stock a few bottles. The wines made from the international grapes are reflective of the land where they are grown and provide a difference in taste. The native grape Feteasca Alba is certainly one that wine enthusiasts should search and taste.
Cheers,
Terry