Virginia is a beautiful state with dynamic views of mountains and rough terrain, Travelers  and tourists will discover great views even along the state's main highways.
The West Virginia wine industry began before the Civil War near Charleston. The first winery, Dutch Hollow Wine Cellars, is on the National Register of Historic Places. Today, the site is no longer an active winery but West Virginia does have wineries that are producing wines with West Virginia grown fruit.
The determination of wine growers and winemakers producing wines is evident. West Virginia does have wineries producing wines with West Virginia grown fruit.
Although there are not many West Virginia wineries most likely due to the climate conditions, the TTB has authorized three American Viticultural Areas for the state.
The Kanawha River Valley AVA is located only within West Virginia. The Shenandoah Valley AVA is also in Virginia while the Ohio River Valley AVA also includes Indiana, Kentucky and Ohio.
Wine varieties include French hybrids, Native American, and fruit wines. Grape growers discovered that planting grapes on the mountain sides works. If planted in the valleys or on the tops of the mountains the vines will not thrive due to the cold temperatures.
French hybrid grapes growing in West Virginia include Seyval Blanc, Vidal Blanc, Aurore and Marechal Foch. American Native grapes include Niagara, Fredonia, Delaware and Concord. Visitors to West Virginia winery tasting rooms are likely to discover a variety of fruit wines including apple, peach, blueberry, blackberry and strawberry.
West Virginia is a large state and the wineries tend to be spread out from north to south.
Today the state's wineries include:
(The highlighted West Virginia wineries provide links to the articles and photos we visited.)
Cascarelli's Old Country Wine
Daniel Vineyards
Forks of Cheat Winery
Jones Cabin Run Vineyards
Kenco Farms
Kirkwood Winery
Lambert's Vintage Wines
Martin's Mist Winery
Mountaineer Winery
Potomac Highland Winery
Roane Vineyards
Robert F. Pliska and Co. Winery
Stone Road Vineyard
Toscano in Appalachia
Vu Ja De Vineyards
Watts Roost Vineyard(Due to the severe weather of 2013/2014 they will close the vineyards but keep the winery open until they have sold their wine. Their focus will be on their Cotswold Sheep Project for meat and artisan wool.)
West-Whitehill Winery
WineTree Vineyards
Wolf Creek Winery
Below is an easy and yummy recipe from Daniel Vineyards that uses BlackBerry Wine. If you are looking for a dessert recipe give it a try.
Blackberry Wine Cake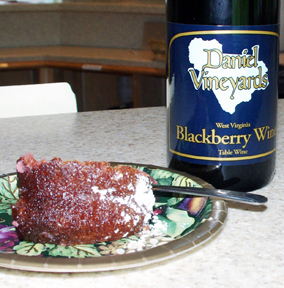 Ingredients
Ingredients for Cake
1 box white cake mix
4 eggs
1 c Daniel Vineyards Blackberry Wine
1 box (3 oz) blackberry or black cherry Jell-O
½ c oil
½ c chopped pecans
Ingredients for Glaze
1 c powdered sugar
½ c butter
½ c Daniel Vineyards Blackberry Wine
Directions
Directions for Cake
1. Grease and flour bundt pan.
2. Sprinkle nuts on the bottom of the pan.
3. In a large bowl, combine cake mix and Jell-O. Add eggs, oil, and wine. Mix well.
4. Pour into pan and bake at 350 for 30 to 40 minutes.
Directions for Glaze
1. Mix all ingredients for the glaze.
2. Bring to a boil, and pour half over warm cake.
3. Let it rest for 30 minutes, and pour remaining glaze over the finished cake.
Cheers!
Kathy