Phylloxera is an insect that, in most areas of the world, has destroyed grape vines. The villain of vineyards is celebrated; however, in a small town in the Penedés region of Catalonia, Spain. While on our search for Cavas, we stopped by the museum Centro de Interpretación de Cava (CIC). The town Sant Sadurní d'Anoia is referred to as the capital of Cava. There are many Cava producers there and most of the Cava is produced there. The ultra-modern multi-sensory museum makes sense. Celebrating the insect that destroyed vineyards in the region though does not.
In early September of each year, the town celebrates, rather festively, the difficult times of poverty that faced the town after the 1887 devastation of their vineyards. Although merry makers dress up as bugs, the festival is really a celebration of the human spirit that persisted and eventually overcame Phylloxera and ultimately started producing Cava. Our museum guide mentioned that if it wasn't for the Phylloxera, there may not be any Cava.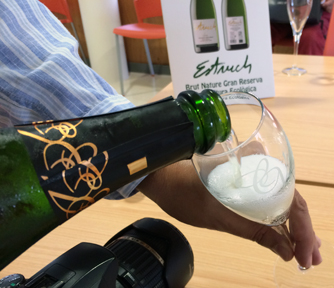 This museum is a must for wine enthusiasts that want to learn a bit of history associated with the bubbly. While there, a local Cava producer met us with a few of his Cavas. Josep Ma. Estruch met us at the museum and we tasted some of his Cavas. The Brut Nature Reserva Cava DO was a blend of Xarel-lo, Parellada and Macabeu. The sparkling wine spent 24 months in the bottle during the secondary fermentation. The Cava was a light yellow color and offered green apple and citrus aromas and flavors. It was very crisp. The 2010 Extra Brut Gran Reserva Cava DO was a blend of Parellada, Macabeu, Xarel-lo and Chardonnay. The sparkling wine was aged 36 months during the secondary fermentation. It too had a light yellow color and offered freshly baked bread aroma and taste along with apple.  The third Cava was the Estruch Brut Nature Gran Reserva Cava DO that was aged for 50 months in the bottle. The Chardonnay and Pinot Noir blend was a yellow color with freshly baked bread, lemon and green apple aromas and flavors. All the Cavas were crisp and under a 14€ price point.
If you visit the Penedés wine region, stop at the Centro de Interpretación de Cava Museum in Sant Sadurní d'Anoia. Discover how phylloxera destroyed vineyards and how the towns people fought back and overcame the diversity and began making Cava.
Cheers,
Terry