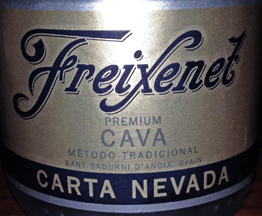 Upon returning home from the Penedés wine region of Catalonia, I still had a thirst for cavas. Kathy and I had many cavas while visiting wineries in the Penedés and while staying in Barcelona. Back in Maryland there is less of a selection of cavas. Imagine my surprise last evening, when at a French restaurant, the only sparkling wine on the menu was a cava. I had to try it.
The restaurant served the cava in a 187 ml bottle with a screw cap. Freixenet Carta Nevada Brut delivered on taste, but was disappointing on the stream of bubbles. The cava was a light yellow with 11.5% alcohol. I noticed apple and yellow stone fruit with a hint of citrus and minerality. Disappointing was the almost non-existent stream of bubbles, so few you could count them and have to wait to count a couple more. One of the reasons I enjoy sparkling wines is because of the fizz. I also enjoy watching the columns of bubbles. While in the Penedés we visited the Cava Regulatory Organization (Consejo Regulador del Cava). While attending a lecture about cava regulations, we were served cavas, each in individual glasses. The first cava served had a steady stream of bubbles a half hour later. This was our experience with the cavas we had while in Spain.
Why was the Freixenet Carta Nevada Brut almost bubble less? Perhaps I just had a bottle that didn't deliver. Perhaps it was the screw cap. On the positive side the cava did pair well with the sole that I had for dinner. It was light and refreshing. The cava was a blend of Macabeo, Xarel-lo and Parellada. It also paired perfectly with the house salad. My thirst for cavas will continue.
Cheers,
Terry