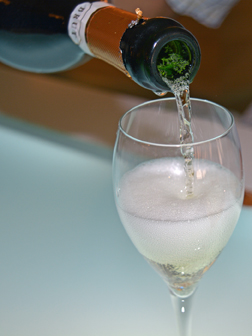 Kathy and I spent the last week of May and the first couple weeks of June in Catalonia, visiting cava producers and judging this year's 50 Great Cavas. We were able to also visit three producers in Requena, in the Valencia Provence. Our trip was work related. We did not go site seeing although we had a wonderful lunch in a small town along the Mediterranean Sea.
When we weren't visiting wineries or tasting cavas, we were writing. This year we are co-authoring the print book 50 Great Cavas. The writing began two weeks prior to our flight to Spain. It continued once we arrived back in Maryland. The two of us spent seven weeks writing our assigned chapters including 28 winery articles for the chapter about the producers.
Visiting cava producers, we met some passionate winemakers and owners who are determined to produce quality cavas. As we discovered elsewhere in the world, winery owners and winemakers have unique stories that differentiate them from each other. Some of the producers recently started while others had families that were in the wine business for centuries. Some of the wineries we visited were boutique while others produced large quantities. We ended with a nice mixture of new and old along with large and small.
This was our second trip to Catalonia and cava producers. We visited the area last October on a media tour. Our recent trip was more intense, in part due to the writing and trying to meet a deadline. We hope to have the book published by autumn in time for holiday sales.
If you have the opportunity to visit Catalonia or Valencia, be sure to include visits to some of the wineries. From our experiences, the large majority of wineries want visitors to make reservations in advance. Most of the wineries we visited have websites with contact information and details about tourism.
The International Wine Tourism Conference will take place in Barcelona April 5th and 6th, 2016. This will be the second straight conference to take place in a sparkling wine region. The 2015 conference was in Reims, France in the Champagne wine region. There will be a fare amount of cava information in the press for the next year. If you have not tried a cava, search it out at your local wine store. Most cavas are a great value.