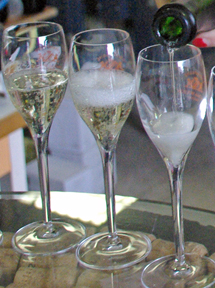 What's a day without a sparkling wine whether it's champagne, cava, prosecco or any sparkling wine? Occasionally sparkling wines are used in recipes, too!
Below is a recipe from the Oregon Raspberry & Blackberry Commission for Red Raspberry Champagne Granita. It's a chilled dessert and seems perfect for a hot summer day! Enjoy.
Later I plan to try to create this with my ice cream maker.
Cheers,
Kathy
Red Raspberry Champagne Granita
Notes: Preparation Time: 1 1/2 hours. Freezing Time: approximately 5 hours. Serves 6
Ingredients
•1 cup sugar, divided
•¾ cup water
•4 cups frozen red raspberries, thawed and divided
•1 ½ cups fresh grapefruit juice
•1 ½ cups dry Champagne (if non alcoholic granita is desired substitute 1 ½ cups lemon lime soda such as Sprite or 7-Up)
•½ cup fresh lemon juice
•¼ cup Framboise (or other raspberry liqueur)
•1 cup fresh red raspberries (optional garnish)
Preparation
1. Combine ¾ cup sugar and ¾ cup water in a small heavy saucepan. Stir over medium heat until sugar dissolves. Increase heat and boil 1 minute. Cool. Refrigerate syrup until cold, about 45 minutes.
2. Puree enough raspberries (about 1 cup) in blender to yield ½ cup of puree. Transfer raspberry puree to large bowl.
3. Mix grapefruit juice, Champagne, lemon juice and chilled syrup into raspberry puree.
4. Pour mixture into 13x9x2-inch metal baking pan.
5. Freeze granita mixture until icy at the edge of pan, about 55 minutes.
6. Using a whisk, mix to distribute frozen portions evenly.
7. Freeze again until icy at edge of pan and overall texture is slushy, about 40 minutes.
8. Whisk again to distribute frozen portions evenly.
9. Cover with plastic wrap and freeze until mixture is solid, about 3 hours. (Freezing time may differ with individual freezer temperature).
10. Meanwhile, mix remaining red raspberries with ¼ sugar and ¼ cup Framboise in a medium bowl. Cover with plastic wrap and refrigerate at least 30 minutes.
11. Using fork, scrape granita down length of pan, forming ice flakes. Do this for the whole pan, leave in flakes, cover with plastic wrap and return to freezer or serve immediately. (Granita can be prepared up to 2 days ahead of time.)
To Serve
Divide raspberries in liqueur between six martini, wine or champagne glasses. Top with granita, garnish with fresh raspberries if desired and serve immediately.
Nutritional analysis
Value per serving: 304 calories, 1.7 calories from fat, 2.60 g protein, 61.34 g carbohydrates, 0.19g fat, 6.85g sodium.
Recipe provided by the Oregon Raspberry & Blackberry Commission.