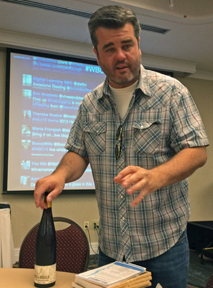 One of the sessions at the annual Wine Bloggers Conference is a blogging session of white wines. Winemakers from the Finger Lakes wineries were on hand to pour a wine and talk about it in just five minutes. The bloggers multi-task. Listening to the winemaker, tasting the wine and blogging, all within the five-minute time frame. Once over, the winemaker takes his wine to another table and the process is repeated. For this session, I have resorted to writing Haikus. The poetry fits nicely in a tweet and once starting I usually can get on a roll.
Haikus
Bellangelo – 2013 Semi dry Riesling
Bellangelo white ?
Riesling mineral, fruity ?
Complex delicious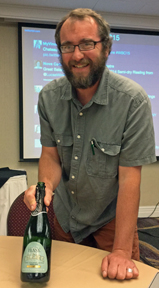 Dr. Konstantin Frank Wine Cellars – "Celebre"
Dr. Frank's sparkling ?
Riesling citrus, mineral
?Fizzy, agressive
Red Newt Cellars – Dry Riesling
Red Newt Dry Riesling ?
Mineral, smooth, yellow stone
?Crisp, dry where's the food??
Glenora Wine Cellars – 2014 Gewürztraminer
Gewürztraminer ?
Spicy, mineral, floral ?
Dry, smooth, Glenora ?
Hunt Country Vineyards – Vidal Blanc Ice Wine
Honeysuckle ice
?Vidal Blanc, velvet, fruity ?
Hunt Country dessert
Standing Stone Vineyards – Gewürztraminer
Standing Stone yellow ?
Spicy, floral, stone fruit, dry
Gewürztraminer
Fox Run Vineyards – 2011 Reserve Riesling
Yellow, petrol wine ?
Fruity, mineral Riesling
?Fox Run pair with food?
Fulkerson Winery – 2014 Grüner Veltliner
Grüner Veltliner ?
Floral, mineral, fruity ?
Fulkerson winery?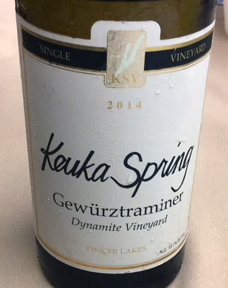 Keuka Spring – 2014 Gewürztraminer
Dynamite Vineyard ?
Floral, spicy, velvety
?Gewürztraminer
3 Brothers – 2014 Grüner Veltliner
Grüner Veltliner ?
Floral, mineral, fruity ?
Three Brothers sweet touch?
Cheers,
Terry