On our second day of the Wine Bloggers Conference, it was time for the winemakers to speed taste their red or rosé wines. The winemakers had five minutes to pour and talk about their wines to the bloggers that were typing away tweeting, trying in ernest to type less than 140 characters as they listened to the winemakers and tasted the wine. It does take some practice for the winemakers. They are trying to talk about their wines and at times it looks like their captive audience is not paying attention. In reality, the bloggers are multi-tasking. Paying attention is one of their tasks and although they may be typing, they are still listening. As with the white wines, I wrote a haiku for each of the red or rosé wines tasted.
Lakewood Vineyards 2013 Cabernet Franc
Dark ruby Cab Franc
Dark fruits, plum, leather, yummy
Lakewood Vineyards rose
Heron Hill – 2013 Eclipse
Cab, Cab, Merlot blend
Translucent ruby color
Bottled for six weeks
Sheldrake Point  – 2014 Rosé
Light pink with orange hue
Floral and red berry fruit
Nice Cabernet Franc
Dr. Konstantin Frank – 2012 Cabernet Sauvignon
Cassis, black berries
Smooth, fruity, tannins, leather
Doctor Frank's C. S.  
Knapp – 2014 Cabernet Franc Rosé
Light orange skin contact
Berry fruits, smooth, refreshing
Rocking chair and porch
Chateau Lafayette Reneau – 2013 Meritage Cab, Cab, PV and Merlot
Dark ruby black fruits
Cabs, Petit Verdot, Merlot
Fruit forward leather touch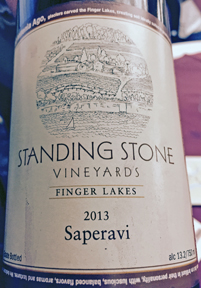 Standing Stone – 2013 Saperavi
Georgian black grapevine
Saperavi black, fruits, yum
Delicious black grape
Fox Run – 2012 Lemberger
Translucent ruby
Dark fruits, black berries, leather
Fox Run Lemberger
J. R. Dill – 2013 Cabernet Sauvignon
Fruity dark, cassis
With kissing tannins, leather
J. R. Dill Cab S
Ventosa Vineyards – 2011 Cabernet Franc
Three plus years French oak
Opaque dark ruby, fruity
Leather Cabernet
Cheers,
Terry