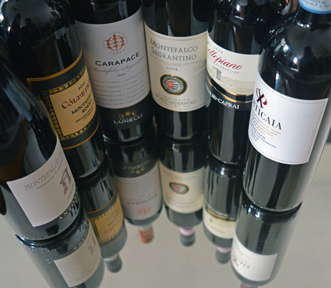 It doesn't happen frequently, but when we do have leftover wine we turn to several possibilities of what to do with it. Late in September, Kathy and I received six bottles of wine from Umbria. We participated in an Internet broadcast about the wines. During the broadcast we tweeted and in my case, I wrote a haiku about each wine tasted rather than traditional wine notes. We only had a tasting of the wines during the broadcast, afterwards we had six bottles of opened wines, two Montefalco Rossos and four Montefalco Sagrantinos. Our two favorite Sagrantinos we had with dinner for two evenings. What about the other wines?
The weather in Central Maryland turned cooler as a nor'easter dumped several inches of rain on us for three days. Warm comfort food was in order so I made a batch of spaghetti sauce in a crock pot. In went one of the bottles of Montefalco Rosso. The dark ruby colored wine gave a beautiful dark ruby color to the sauce. It was delicious and we had the sauce over spaghetti for a couple of those cooler days. Another leftover bottle of wine went into our wine vinegar crock. We were running low and needed to place more wine in the vinegar crock. I've been making wine vinegar for several years now and only use good wine to make a really good vinegar.
The other Sagrantino we drank, but we also have other possibilities of dealing with leftover wines. On occasion, we will fill an ice cube tray with leftover wine. Then when cooking, we just take out a couple of the wine cubes and toss them in to the pot. Another favorite is to make wine jelly. Wine makes an excellent jelly and our recipe has always jelled for us. The jelly retains some of the aromas and flavors of the wine and is a great pairing with wine and spread on crackers.
We would be interested in hearing what others do with leftover wine, other than drink it.
Cheers,
Terry