What a great way to relax and enjoy a bright, sunny summer day! National Coloring Book Day is not only for children; adults can get involved, too!
Earlier this year we visited a winery and wine bar in Olney, Maryland that hosted a coloring book event. The Olney Winery also offers other numerous events. We learned that the coloring book event was well attended and the patrons enjoyed coloring while drinking wine.
Yesterday, we received an email that included two wine-related coloring page designs. Print these designs out and see how well your pages color. The coloring pages were provided by Santa Margherita Winery and Vineyard along with designer Justina Blakeney.
The first design shows a bottle of sparkling wine with the enclosure just removed. The second design shows the villa of Santa Margherita surrounded by floral elements. Both designs lend to your creativity. Splash colors on your coloring book design and enjoy a glass of wine while creating your masterpiece. The links provided go to a full page version of the coloring image.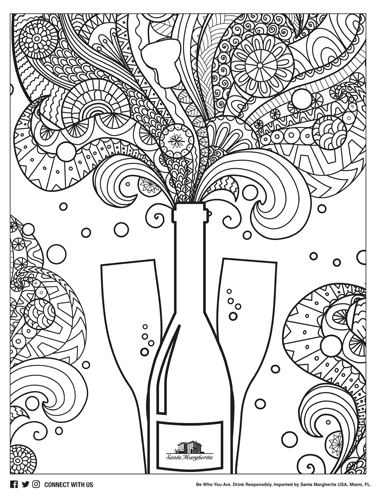 link to the above coloring page
link to the above coloring page
Santa Margherita Winery was founded in 1935. It includes a number of wineries and vineyards in the Italian wine regions of Veneto, Conegliano-Valdobbiadene, Alto Adige, Lombardy, Tuscany and Sicily. The wine portfolio includes wines that are  sparkling, semi-sparkling, white, Rosè, red and dessert.
Cheers,
Kathy and Terry